More About HITMAN71485
Visit My SparkPage
Send Me SparkMail
Recipes I've Shared:
Under 500 calorie George Foreman Grill Quesadillas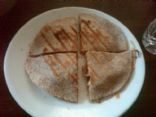 Quick and easy meal that can be made on the foreman grill.. I use the monterey Jack cheese to add a little kick. can be substituted for a different cheese if you like.
Recipes I've Rated:
HITMAN71485 currently has no rated recipes.