More About FITNESSMAGAZINE
Visit My SparkPage
Send Me SparkMail
Recipes I've Shared:
A Slimmer Slice: Fresh Tomato & Chicken Pizza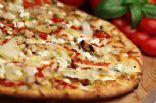 This low-cal pizza recipe gives you the ooey-gooey taste you love -- without the fat. From Fitness Magazine
Recipes I've Rated:
FITNESSMAGAZINE currently has no rated recipes.


Recipe Collections I've Shared:
Lighten Up! with FITNESS Magazine
Fitness Magazine shares its exclusive, light-but-delicious recipes in this cookbook. Now you can still enjoy some of your favorite indulgences and comfort food...but without all the fat and calories. Enjoy!

Guilt-Free Desserts from FITNESS Magazine
Guilt-Free Desserts is full of recipes that will satisfy your sweet tooth but won't hurt your waistline! Low in calories and fat, but high in other nutrients, these flavorful desserts will definitely fill you up!