More About JENNYMACK422
Visit My SparkPage
Send Me SparkMail
Recipes I've Shared:
BBQ Ribz
I got this recipe from the blog "Yeah, That Vegan S**t" (with s**t actually spelled out *grin*).
VERY VERY VERY VERY MESSY TO MAKE!! You have been warned.
I have been thinking about trying them with other kinds of sauces but with the BBQ sauce they're so tasty, that I just haven't been able to bring myself to try anything else.
Spicy Vegetarian Tortilla Soup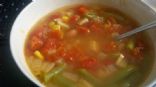 Modified another recipe I found to try creating a chicken tortilla soup.
Recipes I've Rated: