More About JANISLOVESPIE
Visit My SparkPage
Send Me SparkMail
Recipes I've Shared:
Lemony Quinoa and Baby Lima Bean Salad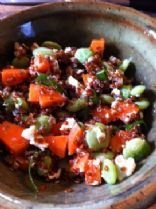 Pack a tasty and satisfying whole-grain* salad that's perfect for warmer weather lunches.

* Of course, quinoa is really a seed, not a grain.... ;-)
Turkey Bacon, Chard Stalk and Potato Gratin
This dish is adapted from one that appeared in Martha Rose Shulman's Recipes for Health column in the New York Times. I love how she turns chard stalks into a separate ingredient of their own! With the addition of turkey bacon, we serve this as a main dish with chard greens on the side.