Nutritional Info
Servings Per Recipe: 12
Amount Per Serving

Calories: 217.0
Total Fat:

4.0 g

Cholesterol:

0.0 mg

Sodium:

293.7 mg

Total Carbs:

43.1 g

Dietary Fiber:

2.0 g

Protein:

2.7 g
Report Inappropriate Recipe
Easy Berry Cobbler Made from WW Recipe
Submitted by: LYSAX13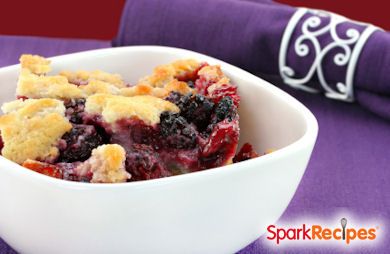 Introduction
Adapted from the Weight Watchers Cobbler Recipe, this only takes seconds to prepare in a 9 x 13 dish and bake in a 350 degree oven
Adapted from the Weight Watchers Cobbler Recipe, this only takes seconds to prepare in a 9 x 13 dish and bake in a 350 degree oven
Ingredients
12 oz can Sprite Zero (or any other Diet Soda)




1 Box White Cake Mix




(2) 16 oz Bags of Frozen Fruit any kind
Directions
Yield: Serves 12

Ingredients
2- 16oz. bags of any frozen fruit
1 box white cake mix
1- 12 oz. can diet Sprite or diet 7-Up

Instructions

Preheat 350 degrees F
Place both bags of frozen fruit into a 13 x 9-inch baking dish (do not thaw)
Sprinkle dry cake mix over the top of frozen fruit
Pour entire can of diet Sprite or diet 7-UP over mixture
Cover with foil and bake 20 minutes
Uncover and bake an additional 40 minutes
let cool

Number of Servings: 12

Recipe submitted by SparkPeople user LYSAX13.


Rate This Recipe
Member Ratings For This Recipe