Nutritional Info
Servings Per Recipe: 1
Amount Per Serving

Calories: 791.5
Total Fat:

79.1 g

Cholesterol:

249.5 mg

Sodium:

671.3 mg

Total Carbs:

6.0 g

Dietary Fiber:

0.0 g

Protein:

17.1 g
Report Inappropriate Recipe
Tuxedo Brownie Cups from Pampered Chef
Submitted by: BAREFOOTNCRAZY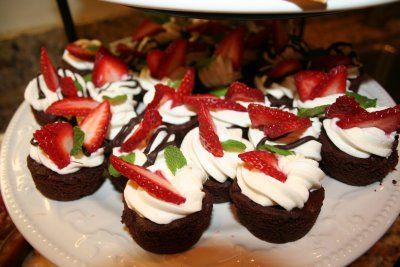 Introduction
Delicious Brownie Cups with a Summer Twist. Perfect for Parties... No Seriving Utensils Required!! Only 100 Calories and 6g of Total Fat per Cup
Delicious Brownie Cups with a Summer Twist. Perfect for Parties... No Seriving Utensils Required!! Only 100 Calories and 6g of Total Fat per Cup
Ingredients
1 Package (18-21oz/ 450g) Fudge Brownie Mix; Plus ingredients to make "Cake-like Brownies"





2 Squares (1oz/ 30g) White Chocolate for Baking





2 Tablespoons (30mL) Milk





1/4 Cup (50mL) Powdered Sugar





1 Cup (250mL) Thawed, Frozen Whipped Topping





1 Pint small Strawberries, sliced





Nonstick Cooking Spary




Mini Muffin Tin




2 Large Mixing Bowl (Microwave safe)
Directions
*Please note that although the cook time is 15min, brownie cups must be refrigerated for at least 60min before serving.
**Also Nutritional Value is calulated from all 4 dozen pieces
(1 Brownie Cup = Calories 100, Total Fat 6g, Saturated Fat 2g, Cholesterol 20mg, Carbohydrate 11g, Protein 1g, Sodium 50mg, Fiber 0g)

1. Brownies:
-Preheat Oven to 325*F. Spray cups of Mini-Muffin Tin with nonstick cooking spary.
-Prepare brownie mix according to package directions for cake-like brownies.
-Fill wells of pan two-thirs full and bake for 14 minutes or until edges are set (do not overbake)
-Remove pan from oven; immediately press top of brownies to male indentations. Cool in pan for 15 minutes then remove from pan.

2. Filling:
-Combine white chocolate and milk in large microwave safe mixing bowl and microwave on high for 1 minute. Stir until smooth
-In another bowl combine cream cheese and sugar; mix well.
-Gradually stir in white chocolate mixture until smooth
-Fold in whipped topping

3. Assembly:
-Pipe Cream Cheese mixture into brownie cups and top with Strawberries.
-Refrigerate for 1-3 hours

Makes 4 Dozen Brownie Cups



Number of Servings: 1

Recipe submitted by SparkPeople user BAREFOOTNCRAZY.


Rate This Recipe