Nutritional Info
Servings Per Recipe: 6
Amount Per Serving

Calories: 304.5
Total Fat:

9.3 g

Cholesterol:

105.0 mg

Sodium:

925.7 mg

Total Carbs:

22.0 g

Dietary Fiber:

0.2 g

Protein:

19.6 g
Report Inappropriate Recipe
Sweet and Sticky Grilled Drumsticks and Wings
Submitted by: HERCKLE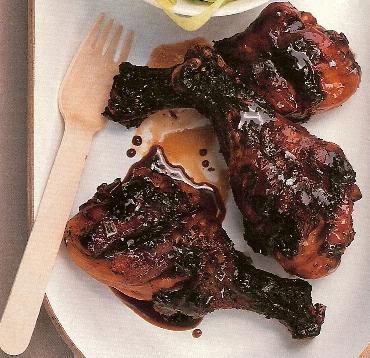 Introduction
Cookout Time! Great Martha Stewart Recipe
Cookout Time! Great Martha Stewart Recipe
Ingredients
Soooooo moist and flavorful! Really, really, really good.




NOTE: I found you can halve the sauce and still have plenty for basting. (I had tons left over and had to toss it.)




1 1/2 c dry red wine




1/2 c + 1 T Brown Sugar Splenda (recipe calls for 1 cup + 2 T reg dark brown sugar)




1/2 c low sodium soy sauce




2 T finely grated fresh ginger




1 garlic clove, minced




6 Perdue chicken drumsticks, skin on (weight will determine calories; this recipe is based on legs weighing 2.2 oz or 61 g ea)




6 Perdue chicken wings (6-pack)



Directions
1 serving = 1 leg and 1 wing
1. Bring wine, sugar, soy sauce, ginger and garlic to a boil in saucepan. Reduce heat and simmer until mixture has thickened to the consistency of honey, 35 to 40 minutes. Let cool.
2. Using a sharp knife, make 3 diagonal slashes through the skin and flesh on both sides of each drumstick and wing (this will help the flavors permeate the meat).
3. Preheat grill to medium-low. (If using charcoal, coals are ready when you can hold your hand 5" above grill for just 7 seconds.)
4. Place drumsticks on grill and brush with sauce. Close cover and grill 4 minutes.
5. Flip chicken and brush with sauce. Continue to cook, flipping and brushing with sauce every 4 to 5 minutes until cooked through, about 20 minutes total.

Number of Servings: 6

Recipe submitted by SparkPeople user HERCKLE.


Rate This Recipe