Nutritional Info
Servings Per Recipe: 4
Amount Per Serving
Calories:

276.5
Total Fat:

3.5 g

Cholesterol:

39.3 mg

Sodium:

1,119.4 mg

Total Carbs:

36.2 g

Dietary Fiber:

1.6 g

Protein:

24.5 g
Report Inappropriate Recipe
HG Chicken Enchilada Casserole
Submitted by: KEYLIME84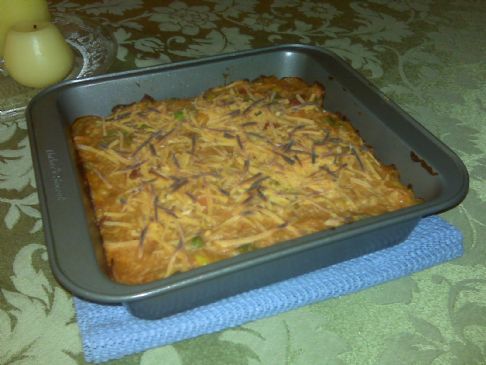 Ingredients
One 9.75oz. (or 10oz.) can 98% fat-free chunk white chicken based in water, drained and flaked




One 10.75oz. can 98% fat-free cream of celery condensed soup




2/3 cup frozen bite-sized mixed veggies




1/2 cup salsa




Six 6-inch corn tortillas




1 cup shredded fat-free cheddar cheese, divided




Optional: salt and black pepper
Directions
Preheat oven to 350 degrees.

In a large bowl, combine chicken, soup, veggies, and salsa. If you like, add salt and pepper. Mix well and set aside.

Spray a baking disk with nonstick spray. Break tortillas in pieces about the size of tortilla chips. Lay half of the tortilla pieces along the bottom of the baking dish.

Evenly layer half of the chicken mixture over the tortilla pieces. Sprinkle with 1/2 cup cheese. Lay remaining tortilla pieces over the cheese. Top evenly with the rest of the chicken mixture, followed by the remaining 1/2 cup cheese.

Bake in the oven for 35 minutes, or until edges are brown and crispy.

Allow to cool for about 5 minutes, until sauce thickens. Eat up!

Makes 4 servings.

Calories: 260
Fat: 4g
Sodium: 1,166mg
Carbs: 27g
Fiber: 4g
Sugars: 3g
Protein: 27.5g

Number of Servings: 4

Recipe submitted by SparkPeople user KEYLIME84.


Great Stories from around the Web
Rate This Recipe