Nutritional Info
Servings Per Recipe: 4
Amount Per Serving
Calories:

177.8
Total Fat:

4.9 g

Cholesterol:

0.2 mg

Sodium:

439.0 mg

Total Carbs:

31.2 g

Dietary Fiber:

1.1 g

Protein:

3.8 g
Report Inappropriate Recipe
HG Best of My Lava Chocolate Cake
Submitted by: KEYLIME84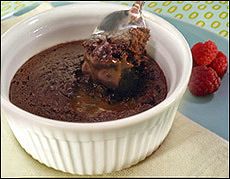 Ingredients
For Cake




1 cup moist-style chocolate cake mix (1/4 of an 18.25-oz. box)




One 25-calorie packet diet hot cocoa mix




1/4 cup fat-free liquid egg substitute (like Egg Beaters Original)




1 tbsp. mini semi-sweet chocolate chips




1/2 tsp. Splenda No Calorie Sweetener (granulated)




2 dashes salt





For Filling




One-half Jell-O Sugar Free Chocolate Pudding Snack (about 1/4 cup)




1/2 tbsp. mini semi-sweet chocolate chips




1 tsp. fat-free liquid creamer (like Coffee-mate Fat Free Original)




1/2 tsp. light whipped butter or light buttery spread (like Brummel & Brown)
Directions
Place the chocolate chips for the filling in a glass and set aside. Pour the creamer in a microwave-safe bowl with the butter, and heat in the microwave for about 15 seconds, until butter has melted and mixture is very hot. Pour the mixture over the chocolate chips and stir until they have dissolved. Allow to cool for several minutes. Add the pudding to the mixture and stir well. Spoon the chocolate mixture into four evenly spaced mounds on a plate. Place in the freezer for 25 minutes. (Don't over-freeze -- the mounds could stick to the plate.)

Preheat oven to 350 degrees.

Place chocolate chips for the cake in a tall glass along with the contents of the cocoa packet. Add 1/4 cup boiling water and stir until chips and cocoa have dissolved. Add 1/2 cup cold water and stir well. Pour the contents of the glass into a mixing bowl. Add all of the remaining ingredients for the cake (cake mix, egg substitute, Splenda, and salt) to the mixing bowl, and whip batter with a whisk or fork for 2 minutes.

Once the chocolate mounds in the freezer are a little firm, spray four baking ramekins (each about 4 inches in diameter) with nonstick spray. Evenly spoon the cake batter (which will be a little thin, but don't worry!) into the ramekins. Remove chocolate mounds from the freezer, and place one in the center of each batter-filled ramekin. Put the ramekins in the oven and bake for 15 minutes. Cakes will look shiny when done.

Carefully remove each ramekin from the oven. You can eat the cake right out of the ramekin (while the center is still gooey!), but make sure to let it cool a little bit, because the ramekin will be hot. Or you can wait until it has cooled completely and plate the cake by running a knife along the edges and flipping it upside down. (Then just pop it in the microwave for about 15 seconds to heat it back up.) Enjoy!

MAKES 4 SERVINGS

Serving Size: 1 individual lava cake
Calories: 182
Fat: 4.5g
Sodium: 433mg
Carbs: 32g
Fiber: 1.5g
Sugars: 18g
Protein: 4g

POINTSŪ value 4*

Number of Servings: 4

Recipe submitted by SparkPeople user KEYLIME84.


Great Stories from around the Web
Rate This Recipe