Nutritional Info
Servings Per Recipe: 8
Amount Per Serving

Calories: 81.8
Total Fat:

4.7 g

Cholesterol:

0.0 mg

Sodium:

135.1 mg

Total Carbs:

17.0 g

Dietary Fiber:

3.2 g

Protein:

11.0 g
Report Inappropriate Recipe
Chai Tea
Submitted by: JMPLOVER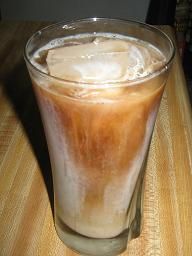 Introduction
A spiced drink you can enjoy hot or iced
A spiced drink you can enjoy hot or iced
Ingredients
8 - Black Tea bags




3/4 cup Splenda




16 Whole Cloves




8 Slices fresh ginger




3 Cinnamon Sticks




1 Licorice Root (optional)
Directions
Makes 8 1-cup servings

Add all ingredients to a stock pot and cook on low heat, covered for 1 - 1 1/2 hours. Stir occasionally.

Store in airtight container in fridge for up to 4 days.

Serve: Fill glass 3/4 full of Chai mix, then finish with soy milk

Number of Servings: 8

Recipe submitted by SparkPeople user JMPLOVER.


Great Stories from around the Web
Rate This Recipe
Member Ratings For This Recipe
How much water does the recipe call for?

- 3/25/11

Reply from

JMPLOVER

(3/25/11)

I usually fill a pot with water. I would say no less than 16 cups.