Nutritional Info
Servings Per Recipe: 2
Amount Per Serving
Calories:

253.2
Total Fat:

4.3 g

Cholesterol:

0.0 mg

Sodium:

911.3 mg

Total Carbs:

43.8 g

Dietary Fiber:

4.1 g

Protein:

12.1 g
Report Inappropriate Recipe
HG Sloppy Joe-Chiladas
Submitted by: KEYLIME84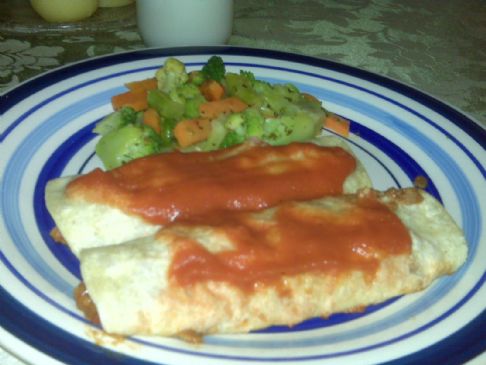 Ingredients
1/4 cup chopped onion




1/4 cup chopped green bell pepper




1 cup frozen ground-beef-style soy crumbles




1/4 cup canned sliced mushrooms, drained




1 teaspoon canned tomato paste




1/2 teaspoon day taco seasoning mix




1/2 no-calorie sweetener packet




3/4 cup canned tomato sauce




4 6-inch corn tortillas
Directions
Place onion and bell pepper in a microwave-safe bowl with 2 tablespoons water. Cover and microwave for 4 minutes. Once cool enough to handle, drain any excess water.

Add soy crumbles and mushrooms to the bowl. Microwave for 1 minute. Set aside.

In a separate microwave-safe bowl, mix tomato paste, taco seasoning, and sweetener into tomato sauce. Microwave for 30 seconds, or until thoroughly heated.

Reserve 1/4 cup sauce to top the enchiladas, and add remaining sauce to the veggie crumble mixture. Stir well, and set aside.

Dampen two paper towels and place the tortillas between them. Microwave for 1.5 minutes.

Lay tortillas flat and evenly distribute the saucy veggie mixture between them.

Wrap each tortilla up tightly and place it on a microwave-safe plate with the seam-side down. Cover with the reserved sauce.

Microwave for about 20 seconds, until enchiladas are hot. Now enjoy!

Makes 2 servings (2 enchiladas each).

Per serving:
214 calories
2.5g fat
851mg sodium
36.5g carbs
7.25g fiber
5g sugar
14.5g protein

Number of Servings: 2

Recipe submitted by SparkPeople user KEYLIME84.


Great Stories from around the Web
Rate This Recipe