Nutritional Info
Servings Per Recipe: 1
Amount Per Serving
Calories:

196.6
Total Fat:

1.3 g

Cholesterol:

0.0 mg

Sodium:

319.0 mg

Total Carbs:

14.2 g

Dietary Fiber:

1.0 g

Protein:

14.5 g
Report Inappropriate Recipe
HG Cup O' Chocolate-Coconut Bread Pudding
Submitted by: KEYLIME84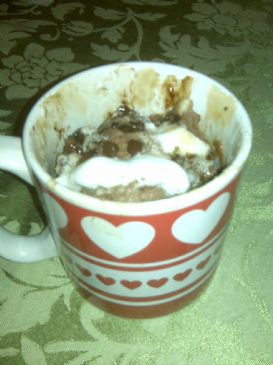 Introduction
http://www.hungry-girl.com/gir
ls/biteoutdetails.php?isid
=2022
http://www.hungry-girl.com/gir
ls/biteoutdetails.php?isid
=2022
Ingredients
One 25-calorie packet diet hot cocoa mix (like Swiss Miss Diet)




Dash salt




1/2 cup fat-free liquid egg substitute (like Egg Beaters Original)




1/4 tsp. coconut extract




2 slices light white bread




1 tsp. mini semi-sweet chocolate chips




10 mini marshmallows
Directions
Combine cocoa mix and salt in a glass. Add 1/4 cup very hot water and stir until ingredients have dissolved. Add egg substitute and coconut extract, and stir. Set aside.

Toast bread and tear into cubes. Spray a large microwave-safe mug lightly with nonstick spray. Add bread cubes and top with cocoa-egg mixture. If needed, stir gently to ensure bread is thoroughly soaked. Top evenly with chocolate chips and marshmallows.

Microwave for about 2 minutes and 15 seconds, until bread pudding is set. (It will puff up once set.) Enjoy!

MAKES 1 SERVING

PER SERVING (entire recipe): 215 calories, 2g fat, 755mg sodium, 33.5g carbs, 6g fiber, 11.5g sugars, 19g protein -- POINTSŪ value 4*

Number of Servings: 1

Recipe submitted by SparkPeople user KEYLIME84.


Great Stories from around the Web
Rate This Recipe