Nutritional Info
Servings Per Recipe: 1
Amount Per Serving
Calories:

242.3
Total Fat:

1.7 g

Cholesterol:

65.7 mg

Sodium:

726.2 mg

Total Carbs:

24.2 g

Dietary Fiber:

1.9 g

Protein:

42.2 g
Report Inappropriate Recipe
HG Sweet 'N Sassy Bonless Hot Wings
Submitted by: KEYLIME84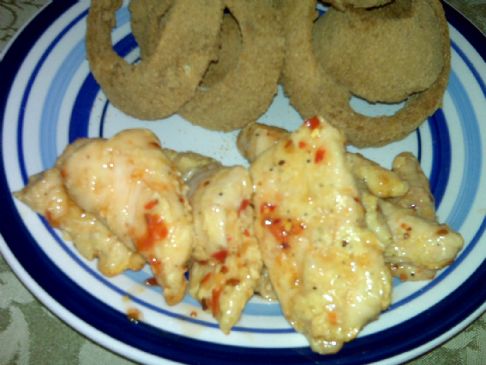 Introduction
http://www.hungry-girl.com/che
w/chewdetails.php?isid=1836
http://www.hungry-girl.com/che
w/chewdetails.php?isid=1836
Ingredients
4 oz. raw boneless skinless lean chicken breast, cut into 8 nuggets




2 tbsp. fat-free liquid egg substitute (like Egg Beaters Original)




2 tbsp. whole-wheat flour




2 tbsp. sweet chili sauce




1 tsp. seasoned rice vinegar




1/4 tsp. red pepper flakes




Dash salt




Dash black pepper
Directions
Preheat oven to 375 degrees. Line a baking sheet with aluminum foil and/or spray with nonstick spray and set aside.

Place chicken in a bowl, cover with egg substitute, and toss to coat. Set aside.

In a separate bowl, combine flour, salt, and black pepper, and mix well. One at a time, transfer chicken nuggets to the flour bowl, giving them a shake first to remove excess egg substitute -- coat completely with flour, and then transfer to the baking sheet.

Bake in the oven for about 16 minutes, flipping halfway through, until chicken is fully cooked. Remove from the oven and set aside.

Combine chili sauce, vinegar, and red pepper flakes in a bowl and mix well. Add chicken and toss to coat. Now gobble up!

MAKES 1 SERVING


Serving Size: entire recipe (8 wings)
Calories: 267
Fat: 1.5g
Sodium: 775mg
Carbs: 30g
Fiber: 2g
Sugars: 15g
Protein: 31g

POINTSŪ value 5*

Number of Servings: 1

Recipe submitted by SparkPeople user KEYLIME84.


Great Stories from around the Web
Rate This Recipe