Nutritional Info
Servings Per Recipe: 3
Amount Per Serving
Calories:

182.6
Total Fat:

4.1 g

Cholesterol:

13.6 mg

Sodium:

772.5 mg

Total Carbs:

18.4 g

Dietary Fiber:

2.2 g

Protein:

18.2 g
Report Inappropriate Recipe
HG Gooey-Good Queso Dip 'n Chips
Submitted by: KEYLIME84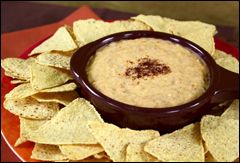 Introduction
http://www.hungry-girl.com/chew/chewdetail
s.php?isid=2046
http://www.hungry-girl.com/chew/chewdetail
s.php?isid=2046
Ingredients
1 cup frozen ground-beef-style soy crumbles (like the kind by Boca or Morningstar Farms)




3/4 tsp. dry taco seasoning mix, divided




3/4 tsp. ground cumin, divided




1/3 cup light plain soymilk




2/3 cup shredded fat-free cheddar cheese




2 wedges The Laughing Cow Light Original Swiss cheese




1 1/2 tbsp. fat-free cream cheese, room temperature




1/8 tsp. chili powder, or more to taste




30 (about 1 2/3 oz.) Guiltless Gourmet All Natural Yellow Corn Tortilla Chips (or another brand of low-fat baked tortilla chips)
Directions
Bring a small pot sprayed with nonstick spray to medium-high heat. Add frozen crumbles and sprinkle with 1/2 tsp. taco seasoning and 1/4 tsp. cumin. Cook for about 4 minutes, mixing occasionally, until thawed and hot. Remove seasoned crumbles and set aside. Remove pot from heat and let cool slightly.

To the pot, add soymilk, all three cheeses, chili powder, remaining 1/4 tsp. taco seasoning, and remaining 1/2 tsp. cumin. Add 1/4 cup water and bring to medium-low heat. Stirring frequently, heat until cheeses have melted and mixture has a smooth, sauce-like consistency.

Add seasoned crumbles to the pot, and continue to cook and stir until hot. If you like, warm chips in the microwave. Place dip in a fun bowl, and serve with chips!

MAKES 3 SERVINGS

Serving Size: 1/3rd of recipe (about 1/3 cup dip and 10 chips)
Calories: 186
Fat: 4g
Sodium: 821mg
Carbs: 17g
Fiber: 3g
Sugars: 1.5g
Protein: 19g

POINTSŪ value 3*

Number of Servings: 3

Recipe submitted by SparkPeople user KEYLIME84.


Great Stories from around the Web
Rate This Recipe