Nutritional Info
Servings Per Recipe: 4
Amount Per Serving

Calories: 190.2
Total Fat:

5.5 g

Cholesterol:

75.9 mg

Sodium:

580.1 mg

Total Carbs:

5.6 g

Dietary Fiber:

1.5 g

Protein:

29.6 g
Report Inappropriate Recipe
Spiced Grilled Salmon
Submitted by: REBECKY44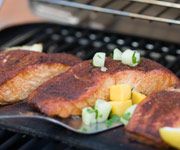 Introduction
Spice your salmon up with this spice rub
Spice your salmon up with this spice rub
Ingredients
Spice rub:




2 tablespoons smoked paprika or Hungarian paprika




2 teaspoons brown sugar




1 teaspoon kosher salt




1/2 teaspoon coarsely ground pepper




1/2 teaspoon ground ginger




1/2 teaspoon ground cardamom




1/2 teaspoon ground cumin




1/4 teaspoon ground cloves




1/4 teaspoon ground cinnamon




1/4 teaspoon cayenne pepper





4 (6-ounce) salmon fillets
Directions
Instructions
1. Preheat the grill.
2. To prepare the spice rub, combine all ingredients in a small bowl.
3. Rub spice mixture over top of salmon. Place salmon skin side down on plank. Place plank on grill. Cook, covered, until salmon flakes with a fork, about 10 minutes. Serve with Cucumber Mango Relish. Serves 4.

[From American Profile]

Number of Servings: 4

Recipe submitted by SparkPeople user REBECKY44.


Great Stories from around the Web
Rate This Recipe
Member Ratings For This Recipe
I held off on the relish and had to grill the salmon on aluminum foil, but it still turned out wonderful! My new favorite salmon recipe, hands down!

- 5/17/11

Reply from

REBECKY44

(8/16/11)

Thank you! I'm glad you enjoyed it!