Nutritional Info
Servings Per Recipe: 4
Amount Per Serving
Calories:

165.8
Total Fat:

6.3 g

Cholesterol:

0.2 mg

Sodium:

197.6 mg

Total Carbs:

24.6 g

Dietary Fiber:

2.4 g

Protein:

7.4 g
Report Inappropriate Recipe
HG PB 'n Chocolate Bread Pudding Bonanza
Submitted by: KEYLIME84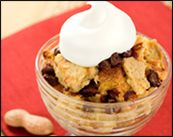 Introduction
http://www.hungry-girl.com/week/weeklydeta
ils.php?isid=948
http://www.hungry-girl.com/week/weeklydeta
ils.php?isid=948
Ingredients
3 slices light bread (40 - 45 calories each with around 2g fiber per slice); lightly toasted and cut into 1/2" cubes




1 cup light vanilla soymilk




1/3 cup fat-free liquid egg substitute (like Egg Beaters Original)




2 tbsp. reduced-fat peanut butter




2 tbsp. semi-sweet mini chocolate chips




2 tbsp. brown sugar (not packed)




Optional: fat-free whipped topping
Directions
Preheat oven to 350 degrees.

Place toasted bread cubes in a 1-quart baking dish sprayed with nonstick spray, and sprinkle chocolate chips evenly on top.

In a blender, combine soymilk, egg substitute, peanut butter and brown sugar. Process at medium speed until smooth. Pour mixture over bread cubes, making sure all the bread cubes are covered. Let stand for 5 minutes.

Place dish in the oven, and bake for 45 - 50 minutes (until pudding is firm).

Best when served warm. If you like, add some whipped topping before serving.

MAKES 4 SERVINGS

PER SERVING (1/4th of recipe): 162 calories, 5.5g fat, 208mg sodium, 22g carbs, 2.5g fiber, 12g sugars, 8g protein -- POINTSŪ value 3*

Number of Servings: 4

Recipe submitted by SparkPeople user KEYLIME84.


Great Stories from around the Web
Rate This Recipe