Nutritional Info
Servings Per Recipe: 4
Amount Per Serving
Calories:

378.2
Total Fat:

20.6 g

Cholesterol:

52.5 mg

Sodium:

2,080.4 mg

Total Carbs:

34.3 g

Dietary Fiber:

6.6 g

Protein:

17.4 g
Report Inappropriate Recipe
Vegitable medley with salad shrimp
Submitted by: PINKPUNKPIRATE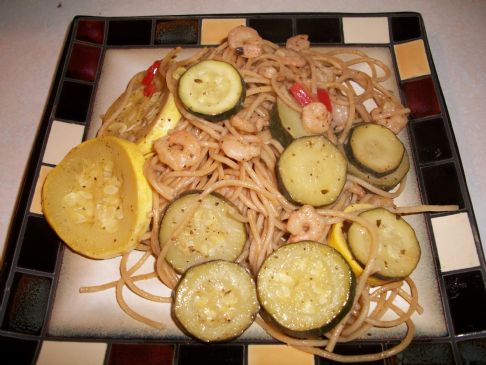 Introduction
Quick and easy to make with whatever veggies you want to throw in!
Quick and easy to make with whatever veggies you want to throw in!
Ingredients
Whole Wheat Spaghetti, cooked (pasta), 3 cup




Singleton Cooked Salad Shrimp, whole bag (any frozen cooked shrimp will do, just adjust for calorie differences)




Lemon juice, 2 tbsp




Bell Pepper (Red), 0.5 cup




Zucchini, 2 cup, sliced (roughly 3)




Yellow Squash, Fresh, sliced (I used 1 big one)




Garlic, 2 cloves, minced




White Wine, 1 fl oz (cooking wine)




Salt, 1 tbsp (adjust to taste)




Land O Lakes, Salted Butter, 2 Tbsp




Extra Light Olive Oil, 4 tbsp




Any sort of all purpose seasoning works in this recipie, something with oregano, basil and rosemary is perfect.
SparkPeople Sponsored Video
Directions
Start by heating olive oill in a skillet on medium - high heat. Also get your water boiling for your pasta and get your pasta cooking (should take about 7 minutes for al dente pasta)

Once the skillet is hot, toss in shrimp, garlic, veggies, wine, butter, lemon juice, season, and cook until veg is tender and shrimp is no longer cold.

Your pasta should be done about the same time (if not a little sooner). Drain.

Once veggies and shrimp are done toss in pasta and let cook for about another minute to ensure everything is piping hot.

Serves 4

Number of Servings: 4

Recipe submitted by SparkPeople user PINKPUNKPIRATE.


Great Stories from around the Web
Rate This Recipe