Nutritional Info
Servings Per Recipe: 1
Amount Per Serving
Calories:

241.3
Total Fat:

2.1 g

Cholesterol:

7.2 mg

Sodium:

913.6 mg

Total Carbs:

53.0 g

Dietary Fiber:

13.0 g

Protein:

22.0 g
Report Inappropriate Recipe
HG Loaded N' Oated Veggie Pizza
Submitted by: KEYLIME84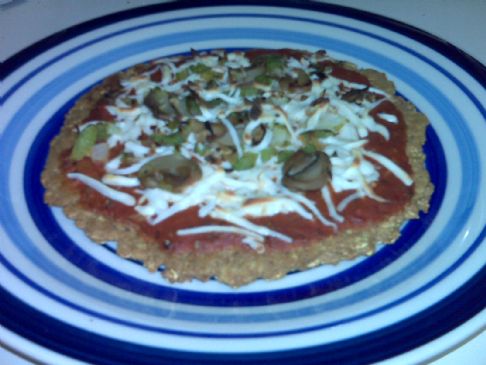 Ingredients
1/4 cup Fiber One bran cereal (original)




1/4 cup regular oats (not instant)




1/4 cup fat-free liquid egg substitute




1/2 cup shredded fat-free mozzarella cheese




1 tablespoon diced mushrooms




1 tablespoon diced green bell peppers




1 tablespoon diced onions




1/3 cup canned tomato sauce




1/2 teaspoon garlic powder




Optional: salt, black pepper, oregano, additional garlic powder, onion powder, red pepper flakes, etc.
Directions
Preheat oven to 400 degrees.

Place oats and Fiber One in a blender or food processor and grind until a breadcrumb-like consistency is reached. In a small bowl, combine the "breadcrumb" mixture, egg substitute, and garlic powder. Mix well.

Over a medium-high heat, spoon mixture into a pan sprayed with nonstick spray and smooth into a circular shape (larger for a thin crust, smaller for a thick crust). Allow to cook until the bottom is slightly browned (about 2 minutes) and then gently flip. Once both sides are slightly browned, remove crust from the pan and plan it on a plate to cool.

Remove pan from heat and respray. Cook diced veggies in the pan over medium-high heat for 1 to 2 minutes. Remove from heat.

Season tomato sauce, to taste, with any of the optional ingredients and mix well. Pour sauce evenly onto the oat/cereal crust.

Next, evenly top crust--first with the cheese and then with the veggies. Place pizza directly on the oven rack and cook for 10 minutes.

If you like, season your pizza with more optional ingredients. Cut into quarters for four times the fun!

Makes 1 serving.

Per serving (1 pizza): 231 calories, 2g fat, 870mg sodium, 37g carbs, 11g fiber, 6g sugars, 24g protein

Number of Servings: 1

Recipe submitted by SparkPeople user KEYLIME84.


Great Stories from around the Web
Rate This Recipe