Nutritional Info
Servings Per Recipe: 1
Amount Per Serving
Calories:

238.9
Total Fat:

5.2 g

Cholesterol:

0.0 mg

Sodium:

1,113.5 mg

Total Carbs:

34.8 g

Dietary Fiber:

18.1 g

Protein:

29.1 g
Report Inappropriate Recipe
HG 'Meaty' Thin Crust Pizza
Submitted by: KEYLIME84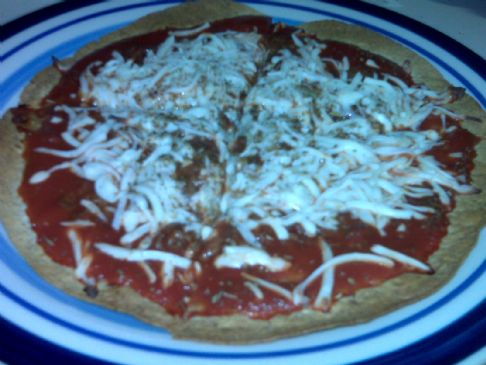 Introduction
http://www.hungry-girl.com/wee
k/weeklydetails.php?isid=9
43#meaty
http://www.hungry-girl.com/wee
k/weeklydetails.php?isid=9
43#meaty
Ingredients
1 La Tortilla Factory Whole Wheat Low-Carb/ Low-Fat Tortilla; Large Size




1/2 cup fat-free tomato sauce




1/2 cup Morningstar Farms® Meal Starters™ Grillers or Sausage Style Recipe Crumbles™




1 1/2 oz. shredded fat-free mozzarella cheese
Directions
Preheat oven to 375 degrees. Thaw crumbles in the microwave for 30 seconds. Bake tortilla for 5 - 6 minutes on each side, or until slightly crispy. Remove tortilla from oven and spread on tomato sauce. Next, sprinkle on crumbles and top evenly with cheese. Return pizza to the oven for approximately 5 minutes, or until cheese has melted. Use a pizza cutter or a sharp knife to cut into slices.

Per Serving (entire pizza): Approx. 260 calories, 5g fat, 1,200mg sodium, 35g carbs, 20g fiber, 9g sugars, 25g protein

Number of Servings: 1

Recipe submitted by SparkPeople user KEYLIME84.


Great Stories from around the Web
Rate This Recipe