Nutritional Info
Servings Per Recipe: 4
Amount Per Serving
Calories:

162.3
Total Fat:

7.1 g

Cholesterol:

18.8 mg

Sodium:

980.2 mg

Total Carbs:

16.0 g

Dietary Fiber:

0.1 g

Protein:

10.9 g
Report Inappropriate Recipe
HG Cheesy Pigs in Bacon Blankies
Submitted by: KEYLIME84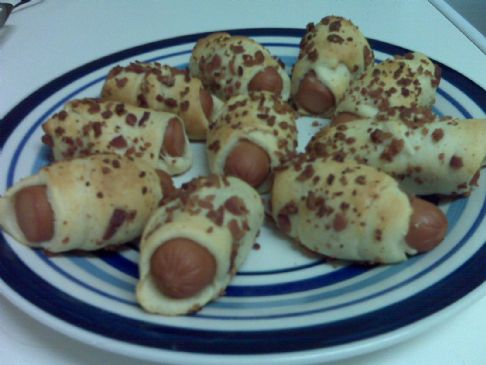 Ingredients
4 portions (1/2 package) refrigerated Pillsbury Reduced Fat Crescent rolls (unprepared)




2 wedges The Laughing Cow Light Original Swiss cheese




4 dashes garlic powder, or more to taste




4 hot dogs with about 40 calories and 1g fat or less each (Hebrew National 97% Fat Free is our fave!)




2 tbsp. precooked real crumbled bacon (like the kind by Oscar Mayer)




Optional: Dijonnaise, ketchup, salsa (for dipping)
Directions
Preheat oven to 375 degrees. Spray a baking sheet with nonstick spray and set aside.

Slightly stretch or roll out one of the triangle-shaped portions of dough, forming a larger triangle. Evenly spread with half a wedge of cheese, and then sprinkle with a dash of garlic powder. Place hot dog along the base and gently, but firmly, roll it up. Squeeze the dough gently to ensure it is secure around the hot dog. Sprinkle 1/2 tbsp. bacon on your work surface and roll the dough-wrapped dog in it, so the bacon sticks to the outside; press any remaining bacon into the dough. Place on the baking sheet.

Repeat 3 times with remaining ingredients, so that you have 4 evenly spaced pigs in a blanket on the sheet.

Bake in the oven for about 12 - 14 minutes, until dough appears slightly browned and crispy.

Let cool slightly. If you like, dip your dog into one or more of the optional ingredients. Enjoy!

MAKES 4 SERVINGS

PER SERVING (1 pig in a blanket): 164 calories, 6.75g fat, 877mg sodium, 16g carbs, 0g fiber, 3.5g sugars, 10.5g protein -- POINTSŪ value 4*

Number of Servings: 4

Recipe submitted by SparkPeople user KEYLIME84.


Great Stories from around the Web
Rate This Recipe