Nutritional Info
Servings Per Recipe: 4
Amount Per Serving
Calories:

117.2
Total Fat:

8.0 g

Cholesterol:

277.8 mg

Sodium:

240.5 mg

Total Carbs:

2.3 g

Dietary Fiber:

0.1 g

Protein:

10.4 g
Report Inappropriate Recipe
Healthy Deviled Eggs from FANNETASTIC FOOD
Submitted by: FANNETASTICFOOD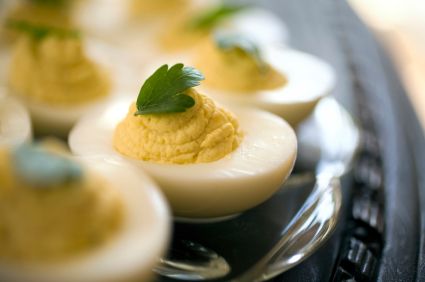 Introduction
A healthy, mayo-free, but still delicious version of deviled eggs!




A healthy, mayo-free, but still delicious version of deviled eggs!




Ingredients
6 hard boiled eggs, peeled and cut lengthwise





1/4 C nonfat plain Greek yogurt





2 tsp dijon mustard





1/4 tsp pepper





1/8 tsp salt





paprika to garnish



Directions
For more great recipes, check out my blog:
fannetasticfood.com
First you need to hard boil the eggs! Place the eggs in a pot, add just enough cold water so that they are fully covered, and put on high heat.
Cover and bring them to a boil, then turn off the heat and let them sit, still covered, for 12 minutes. Then they are ready! I usually rinse them with some cold water and let them sit for a bit to cool them down first. You can also put them in an ice bath.
Once theyfve cooled, peel them and cut them lengthwise.
Place the whites on a plate and the yolks in a bowl. Add the remaining ingredients (except for the paprika) to the yolks in the bowl, and mash it all together.
Once it is mostly uniform, smoosh the mixture back into the empty egg whites, top with a sprinkle of paprika, and enjoy!
Great Stories from around the Web
Rate This Recipe
Member Ratings For This Recipe
I loved this. It was healthy and good. I like to spice mine up so this time, I made exactly as called out, but sometimes I add a couple drops of tabasco (or hot sauce of choice) - sometimes I'm wanting vinegary so I'll use dill pickle juice, can always spruce it up, but this is an excellent base.

- 7/23/10

I love deviled eggs, will try this recipe soon. I'll come back and rate it; based on the ingredient list I'm sure they'll get a five!

Incidentally, cooling the eggs quickly after cooking prevents the green coating the yolks get. That is iron sulfide, and quick cooling stops the reaction

- 11/6/10

I think I would miss the pickle relish more than the mayo :(

- 6/9/10

Reply from

FANNETASTICFOOD

(6/9/10)

So make it with yogurt and pickle relish! I've never heard of relish with deviled eggs - interesting idea!