Nutritional Info
Servings Per Recipe: 4
Amount Per Serving
Calories:

158.4
Total Fat:

2.6 g

Cholesterol:

7.9 mg

Sodium:

233.1 mg

Total Carbs:

26.0 g

Dietary Fiber:

0.6 g

Protein:

4.1 g
Report Inappropriate Recipe
HG Dreamy PB Chocolate Ravioli Puffs
Submitted by: KEYLIME84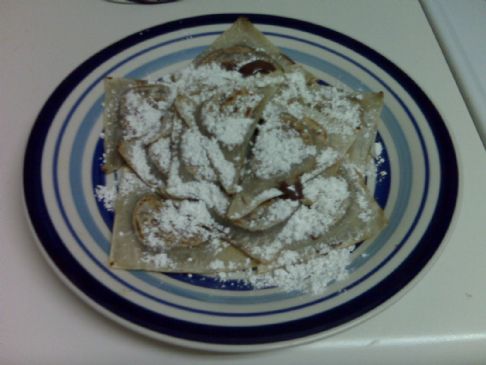 Ingredients
2 Mousse Temptations by Jell-O snack cups, Dark Chocolate Decadence or Chocolate Indulgence




2 tbsp. Better 'N Peanut Butter, room temperature




16 small square wonton wrappers (often stocked near the tofu in the fridge section of the market)




1/4 cup Fat Free Reddi-wip, divided




Optional: powdered sugar
Directions
To make the filling, gently swirl together mousse and peanut butter in a bowl -- don't over-stir, but make sure PB is evenly distributed. Set aside.

Set out a wide plastic container (or a few mid-sized ones), and make sure you've got room in your freezer.

Lay two wonton wrappers flat on a clean, dry surface. Spoon a little less than 1 tbsp. filling into the center of each wrapper. Moisten all four edges of each wrapper by dabbing your fingers in water and going over the edges smoothly. Fold the bottom left corner of each wrapper to meet the top right corner, forming a triangle and enclosing the filling. Using your fingers or the prongs of a fork, press firmly on the edges to seal.

Repeat with all remaining wrappers and filling, placing each raviolo flat in the container(s). (Yup, that's really the singular form of "ravioli!") Freeze for 1 hour.

Bring a large skillet sprayed with nonstick spray to medium heat. Working in batches, place frozen ravioli flat in the skillet, evenly spaced, and cook for 2 - 3 minutes, until slightly puffy. Flip carefully and cook for an additional 1 - 2 minutes (no longer). Don't flip them again, as the filling may ooze out!

Allow to cool slightly. If you like, sprinkle with a small amount of powdered sugar. Then top each serving with a tbsp. of Reddi-wip and enjoy!

MAKES 4 SERVINGS

PER SERVING (4 "ravioli puffs"): 157 calories, 4.5g fat, 242mg sodium, 25g carbs, 1.5g fiber, 2g sugars, 5g protein -- POINTSŪ value 3*

Number of Servings: 4

Recipe submitted by SparkPeople user KEYLIME84.


Great Stories from around the Web
Rate This Recipe