Nutritional Info
Servings Per Recipe: 6
Amount Per Serving
Calories:

121.5
Total Fat:

1.7 g

Cholesterol:

0.0 mg

Sodium:

4.7 mg

Total Carbs:

25.1 g

Dietary Fiber:

1.3 g

Protein:

2.9 g
Report Inappropriate Recipe
Ice-cream: Cheat's Banana Ice-cream (125 g serving)
Submitted by: LUCYLAKE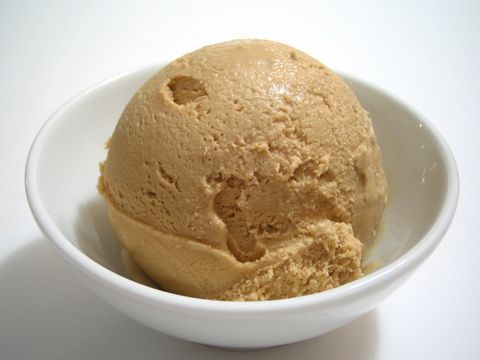 Introduction
A low fat recipe that tastes every bit as creamy as the real thing. It's also dead easy to make – instead of making the custard base yourself, just reach for your favourite soya alternative... Try this recipe, substituting other fruit such as berries instead of bananas.

Dairy-free, egg-free and low-fat
A low fat recipe that tastes every bit as creamy as the real thing. It's also dead easy to make – instead of making the custard base yourself, just reach for your favourite soya alternative... Try this recipe, substituting other fruit such as berries instead of bananas.

Dairy-free, egg-free and low-fat
Ingredients
525 g Custard (Alpro Soya Dairy Free)




250 g over ripe bananas




2 Tablespoons of honey
Directions
Blend bananas until smooth, add the honey and custard and blend together until smooth. Pop it into your ice-cream machine, if you have one, or:

Place the mixture into a suitable container and put it into the freezer. Check after 45 minutes, as it begins to freeze near the edgers, stir vigorously with a sturdy whisk or hand-held blender. Break up any frozen sections.

Continue to check the mixture every 30 minutes, stirring vigorously as it's freezing.

Keep checking periodically and stirring while it freezes, until the ice-cream is frozen. This should take 2-3 hours.

Number of Servings: 6.44

Recipe submitted by SparkPeople user LUCYLAKE.


Great Stories from around the Web
Rate This Recipe