Nutritional Info
Servings Per Recipe: 1
Amount Per Serving

Calories: 171.6
Total Fat:

3.2 g

Cholesterol:

2.9 mg

Sodium:

752.2 mg

Total Carbs:

30.0 g

Dietary Fiber:

16.6 g

Protein:

17.2 g
Report Inappropriate Recipe
HG Crispy White Pizza
Submitted by: KEYLIME84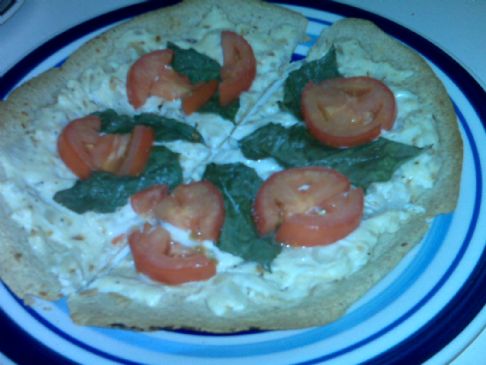 Introduction
http://www.hungry-girl.com/ask
hg/askhgdetails.php?isid=2079
http://www.hungry-girl.com/ask
hg/askhgdetails.php?isid=2079
Ingredients
1 La Tortilla Factory Smart & Delicious Low Carb/High Fiber Large Tortilla




1/3 cup fat-free ricotta cheese




1 tbsp. shredded fat-free mozzarella cheese




1/4 tsp. garlic powder




1/8 tsp. plus 1 dash salt




Dash black pepper




1/4 cup thinly sliced onions




6 basil leaves




4 thin slices plum tomato (Romas rock)
Directions
Preheat oven to 375 degrees.

Place tortilla on a baking sheet sprayed lightly with nonstick spray. Bake in the oven for 5 - 6 minutes per side, until slightly crispy. Leave oven on.

In a small bowl, mix ricotta cheese, mozzarella cheese, garlic powder, 1/8 tsp. salt, and pepper. Set aside.

Bring a skillet sprayed with nonstick spray to medium heat on the stove. Add onions and, stirring occasionally, cook until softened and slightly browned, about 3 minutes. Immediately stir onions into cheese mixture.

Spread onion-cheese mixture evenly on top of the tortilla, and top with basil leaves, tomato slices, and a dash of salt.

Bake in the oven for 5 minutes, or until entire pizza is hot. Use a pizza cutter or sharp knife to cut into slices. Pizza for one!

MAKES 1 SERVING

Let me know how you like it! BTW, if you can't locate fat-free mozzarella, just use part-skim mozzarella or half a stick of light string cheese pulled into pieces and roughly chopped. That swap will only add about 10 - 20 calories and 1g fat. Still Under 200 ;)

PER SERVING (entire pizza): 176 calories, 3g fat, 947mg sodium, 29g carbs, 13g fiber, 7g sugars, 19g protein -- POINTS® value 3*

Number of Servings: 1

Recipe submitted by SparkPeople user KEYLIME84.


Great Stories from around the Web
Rate This Recipe