Nutritional Info
Servings Per Recipe: 1
Amount Per Serving
Calories:

180.4
Total Fat:

3.5 g

Cholesterol:

5.0 mg

Sodium:

944.9 mg

Total Carbs:

28.2 g

Dietary Fiber:

18.3 g

Protein:

25.2 g
Report Inappropriate Recipe
HG Cheeseburger Quesadilla
Submitted by: KEYLIME84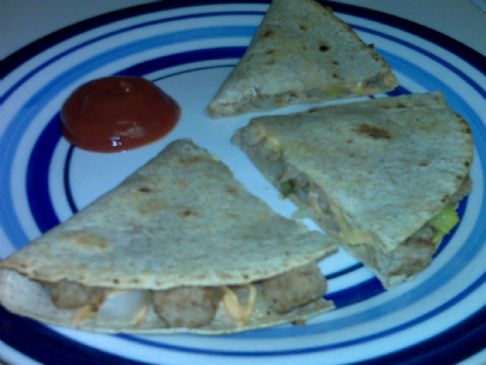 Ingredients
1 large La Tortilla Factory Smart & Delicious Low Carb/High Fiber tortilla




1 Boca Original Meatless Burger, thawed




1 slice fat-free American cheese, chopped




1 tablespoon chopped onion




1 tablespoon chopped pickles




Optional ingredients: salt, black pepper, garlic powder




Optional topping: ketchup
Directions
Preheat oven to 350 degrees.

Cut burger into small bite-sized pieces. Bring a pan sprayed with nonstick spray to medium heat on the stove. Add onion and burger pieces. Cook for 2 to 3 minutes, until onion is soft. Season mixture to taste with optional ingredients, if you like.

Spray a medium-large baking sheet lightly with nonstick spray. Lay tortilla flat on the sheet and evenly top with the cheese pieces. Bake in the oven for about 2 minutes, until cheese has melted slightly. Leave oven on.

Spread burger mixture over one half of the tortilla. Top with pickles and fold tortilla in half, pressing down lightly with a spatula to seal.

Bake in the oven for another 3 to 5 minutes, until tortilla edges are slightly brown.

Remove from the oven and cut into triangles. Top or serve with ketchup, if you like. Yum!

MAKES 1 SERVING

Per serving (entire quesadilla): 186 calories, 3.5g fat, 989g sodium, 27g carbs, 16g fiber, 2.5g sugar, 26g protein

Number of Servings: 1

Recipe submitted by SparkPeople user KEYLIME84.


Great Stories from around the Web
Rate This Recipe