Nutritional Info
Servings Per Recipe: 2
Amount Per Serving
Calories:

228.4
Total Fat:

3.3 g

Cholesterol:

65.0 mg

Sodium:

1,396.0 mg

Total Carbs:

23.2 g

Dietary Fiber:

4.7 g

Protein:

29.0 g
Report Inappropriate Recipe
HG WOW Kung Pao Chicken
Submitted by: KEYLIME84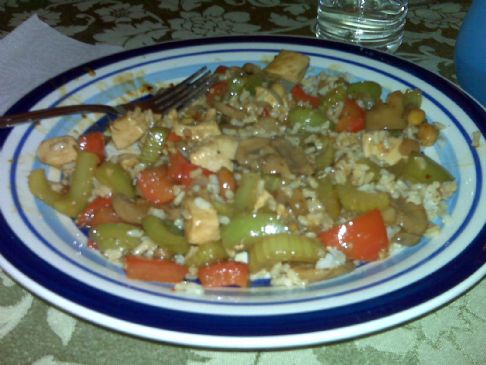 Ingredients
2 tbsp. reduced-sodium or lite soy sauce




1 1/2 tbsp. rice vinegar




2 tsp. Splenda No Calorie Sweetener (granulated)




1/2 tbsp. cornstarch




1 tsp. red chili sauce, or more to taste




8 oz. raw boneless skinless lean chicken breast, cubed




3/4 cup mushroom chunks




3/4 cup bell pepper chunks (red and/or green)




1/2 cup chopped celery




1/2 cup chopped onion




1 tsp. minced garlic




1/4 cup sliced & halved canned water chestnuts, drained




1 tbsp. chopped dry-roasted unsalted peanuts




Salt, black pepper, red pepper flakes, to taste
Directions
To make the sauce, combine 2 tbsp. cold water with soy sauce, vinegar, Splenda, cornstarch, and chili sauce. Stir until all ingredients have dissolved. Set aside.


Spray a large skillet or wok with nonstick spray, and bring to medium-high heat. Add chicken, mushrooms, bell peppers, celery, onion, garlic, and 2 tbsp. water. Stirring occasionally, cook for about 5 minutes, until chicken is almost fully cooked but still tender.

Add water chestnuts and peanuts to the skillet/wok. Raise heat to high, give sauce a stir, and add it to the skillet/wok as well.

Mix entire dish until all ingredients are coated in sauce, and the sauce is hot and thick. Season to taste with salt, black pepper, and red pepper flakes. Enjoy!


MAKES 2 SERVINGS


Serving Size: 1 heaping portion (half of recipe)
Calories: 230
Fat: 4g
Sodium: 720mg
Carbs: 17g
Fiber: 3g
Sugars: 7g
Protein: 30g

POINTSŪ value 4*

Number of Servings: 2

Recipe submitted by SparkPeople user KEYLIME84.


Great Stories from around the Web
Rate This Recipe