Nutritional Info
Servings Per Recipe: 8
Amount Per Serving
Calories:

233.5
Total Fat:

11.0 g

Cholesterol:

65.0 mg

Sodium:

610.3 mg

Total Carbs:

7.9 g

Dietary Fiber:

0.3 g

Protein:

24.2 g
Report Inappropriate Recipe
Country Style Steak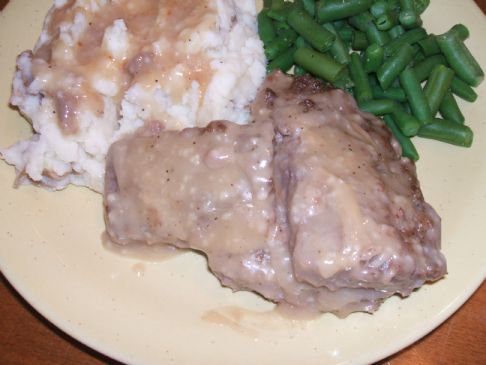 Introduction
This is another favorite comfort food. Serve it with mashed potatoes and green beans.
This is another favorite comfort food. Serve it with mashed potatoes and green beans.
Ingredients
Steak:




2 pounds lean ground beef




3 tablespoons dry onions




1/2 teaspoon pepper




1 teaspoon salt




6 tablespoons flour





Gravy:





2 tablespoons margarine




1/4 cup flour




2 cups beef broth (made from bouillon cubes is fine)




1/2 teaspoon onion powder




Dash pepper



Directions
Begin by preparing the steaks. In a cereal bowl combine the flour, salt and pepper. Mix it up with a fork to distribute the seasonings evenly. Measure 1/4 cup of the seasoned flour, and set the rest aside until later. In a large bowl combine the ground beef, dry onions and the 1/4 cup of seasoned flour you just measured. Use your hands to combine it like meatloaf. Pat the meat flat into a 9" by 13" rectangular pan. The meat will be very thin. Score or cut the meat into 16 squares with a knife or a pizza cutter. Take the reserved seasoned flour and pat it on top of the meat. Bake at 400° for about 20 minutes. The meat will shrink up, and there will be a lot of fat floating in the pan. Carefully drain off all the fat and recut the squares.

Prepare the gravy while the meat is cooking. Melt the margarine in a small skillet. Add the flour. Cook and stir this for a few minutes over low heat so that the flour browns a little bit, watch it carefully so it doesn't burn. This will make the finished gravy a pretty and appetizing brown color. Add the beef broth, onion powder and a sprinkle of pepper. Stir the gravy until it is smooth and bring it to a boil. Simmer for a few minutes, or until it is slightly thickened, but still a little thin. The gravy is thin because this makes it easier for the meat to absorb it some. Pour the prepared gravy over the steaks in the pan, after you have drained off the fat. This recipe serves 8.


Number of Servings: 8

Recipe submitted by SparkPeople user BUDGETMOM.


Great Stories from around the Web
Rate This Recipe
Member Ratings For This Recipe