Nutritional Info
Servings Per Recipe: 4
Amount Per Serving

Calories: 116.9
Total Fat:

0.9 g

Cholesterol:

0.0 mg

Sodium:

68.3 mg

Total Carbs:

22.0 g

Dietary Fiber:

4.4 g

Protein:

7.2 g
Report Inappropriate Recipe
Panko Eggplant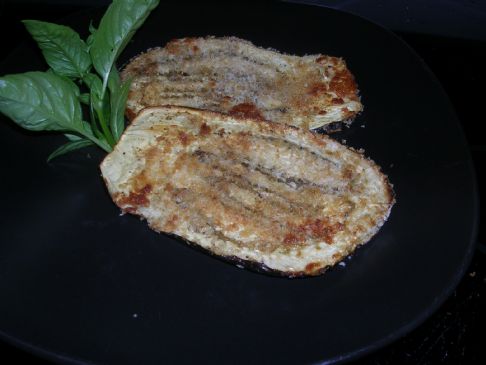 Introduction
Yep. I can eat the whole thing!
Yep. I can eat the whole thing!
Ingredients
Eggplant, fresh, 1 eggplant, unpeeled (approx 1-1/4 lb)




3 Egg whites




2 T. Whole Wheat Flour




1 C. Asian Gourmet Panko Breadcrumbs




.25 t. garlic powder




.25 t. pepper




Directions
Preheat oven to 400 degrees. Spray cookie sheet with nonstick spray. Beat egg whites with seasonings and add 2 T. water. Slice eggplant lengthwise. Lightly dust both sides with flour. Dip in eggwash and press into panko crumbs on both sides. Place on cookie sheet. Bake for 20 minutes. Turn over and continue to bake for another 20 minutes.

Makes 4 servings (or ONE if you really love it like I do.)

Number of Servings: 4

Recipe submitted by SparkPeople user SPUTNIK1957.


Rate This Recipe