Nutritional Info
Servings Per Recipe: 4
Amount Per Serving
Calories:

251.9
Total Fat:

18.0 g

Cholesterol:

59.1 mg

Sodium:

499.4 mg

Total Carbs:

8.4 g

Dietary Fiber:

2.3 g

Protein:

14.3 g
Report Inappropriate Recipe
Greek Stuffed Zucchini Boats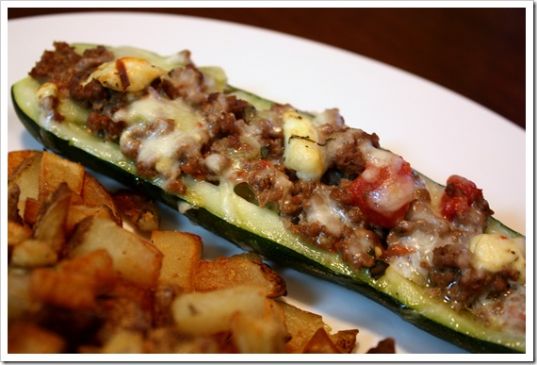 Introduction
I am SUCH a fan of Zucchinis, I get so excited whenever our plants start producing!
I am SUCH a fan of Zucchinis, I get so excited whenever our plants start producing!
Ingredients
• 4 zucchinis




• 2 tsp EVOO




• 3/4 pound lean ground beef




• 1 tbsp Minced garlic




• 1 Tsp Onion powder




• 1/2 cup of tomato-basil Feta cheese crumbles




• 1 Can of diced tomatoes (or use fresh – I didn't have any ripe ones yet)




• Optional – mozzarella or parmesan cheese, grated




• Fresh basil
Directions
Instructions:

1. Preheat the oven to 375 degrees, and set a large pot of water to boil.

2. Gather your ingredients while you wait for the water to boil

3. Saute some minced garlic in a bit of EVOO, then add the ground beef, and cook over medium heat to brown.

4. Whenever the water is boiling, put the zucchinis in for about 4 minutes to cook them just a bit. Then remove, rinse with cool water so you can handle them, cut in half lengthwise, and scoop out the innards.

5. Add zucchini innards (chopped) to the beef as it cooks. Also season with onion powder, salt, and pepper.

6. When the beef mixture is cooked, mix in a bowl with the feta and tomatoes

7. Fill the zucchini boats with the beef mixture, patting it in so you can get as much filling as possible in there! Top with cheese (optional) and fresh basil.

8. If there is extra filling, put it in a small casserole dish or ramekins to bake separately.

9.Bake 20-30 minutes.


serves 4-6 (calorie info is figured for 4 servings)

Number of Servings: 4

Recipe submitted by SparkPeople user PRINCESSNURSE.


Great Stories from around the Web
Rate This Recipe
Member Ratings For This Recipe
Mmm sounds yummy! That sodium would kill me though. I'll have to figure out how to reduce it a bit so I can pig out on these! :) :)

- 7/2/10

Reply from

(7/2/10)

if you use fresh tomato it would reduce it quite a bit---I used canned so the sodium content is figured using the canned tomato--also I had a TON of extra filling so if you added another zucchini this could easily serve 6 and reuce the calories and sodium even more.