Vegan Whole Wheat Hamburger (or Hotdog) Buns
Nutritional Info
Servings Per Recipe: 12
Amount Per Serving
Calories:

190.5
Total Fat:

2.8 g

Cholesterol:

0.0 mg

Sodium:

323.5 mg

Total Carbs:

37.6 g

Dietary Fiber:

4.3 g

Protein:

6.1 g
Report Inappropriate Recipe
Submitted by: IMVEGAN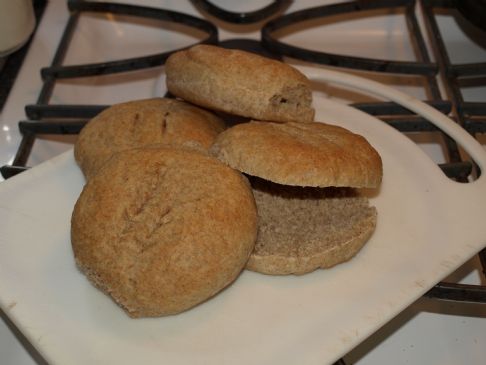 Introduction
I found a great recipe for Hamburger Buns that I altered to make vegan. They turned out soft and Delicious!
I found a great recipe for Hamburger Buns that I altered to make vegan. They turned out soft and Delicious!
Ingredients
Almond Breeze Almond Milk, Original 1 Cup (you can use any milk replacement you have)




Water, tap, .5 cup




Earth Balance Natural Buttery Spread, 2 tbsp




Applesauce, unsweetened, 0.125 cup




Whole Wheat Flour, 3 cup




Organic Unbleached White Flour, 1.5 cup




Yeast (instant dry yeast), 1 package




Agave Nectar 1 tbsp (you may use honey)




Salt, 1.5 tsp




Ener-G egg replacer 1.5 tsp, mixed with 2 T water



Directions
This makes 12 Hamburger Buns.

Heat the "milk," water, agave, Earth Balance, and Applesauce until the "butter" is melted. Check temperature. Let cool until it is 120 degrees. Mix in the egg replacer.

Measure out the flours and wisk together. Measure out 2 cups of the flour mix, yeast and salt and add to the wet ingredients and stir until well incorporated. Stir in the rest of the flour 1/2 cup at a time. Mix well with each addition of flour.

When the dough pulls together turn it out onto a floured surface and kneed until smooth and elastic, about 5 minutes.

Divide into 12 equal pieces. Shape into smooth balls, flatten slightly and place on a parchment paper covered cookie sheet. Spray with a canola oil spray, cover lightly with plastic wrap and let rise for about 1/2 an hour, or until doubled in size.

Bake at 400 degrees for 12 -15 minutes or until nicely golden brown on top.

If you want to make hot dog buns shape into rectangles instead of balls

Number of Servings: 12

Recipe submitted by SparkPeople user IMVEGAN.


Great Stories from around the Web
Rate This Recipe
Member Ratings For This Recipe
Thank you so much!!! I have always wondered how to make a homemade version for burgers and hotdogs(vegan ones). I am so committed to NOT eating anymore white breads and now I can really enjoy all the foods I like with this recipe.

- 7/20/10

Reply from

IMVEGAN

(7/20/10)

I hope you enjoy it as much as we do. By the way. .125 cups of applesauce is 2Tablespoons. For some reason I couldn't find that amount in the recipe index for unsweetened applesauce.