Nutritional Info
Servings Per Recipe: 1
Amount Per Serving

Calories: 213.3
Total Fat:

11.5 g

Cholesterol:

8.7 mg

Sodium:

385.7 mg

Total Carbs:

3.0 g

Dietary Fiber:

0.2 g

Protein:

25.3 g
Report Inappropriate Recipe
Parmesan Baked Tilapia
Submitted by: EAGLES17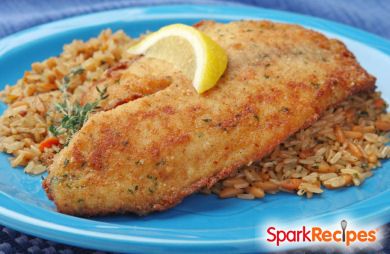 Introduction
An easy low calorie recipe to throw together for a delicious meal! *From RecipeZaar's MaMa's Supper Club Parmesan Tilapia Recipe
An easy low calorie recipe to throw together for a delicious meal! *From RecipeZaar's MaMa's Supper Club Parmesan Tilapia Recipe
Ingredients
4 oz. tilapia fillet (orange roughy, cod or red snapper can be substituted)




1/2 tablespoon lemon juice




1/8 cup grated parmesan cheese




1 tablespoon I Can't Believe It's Not Butter (Mediterranean Blend Light used to calculate nutrition facts), room temperature




3/4 tablespoon reduced fat or light mayonnaise




3/4 tablespoon finely chopped green onions




1/16 teaspoon seasoning salt




1/16 teaspoon dried basil




Black pepper




Dash hot pepper sauce (optional)
Directions
*Makes 1 serving*

1. Preheat oven to 350 degrees Fahrenheit.
2. Place the fillet in a buttered baking dish.
3. Brush the top with juice.
4. Bake fish in preheated oven 10 to 20 minutes or until fish just starts to flake.
5. Meanwhile, combine the cheese, "butter," mayonnaise, onions and seasonings in a bowl. Mix well with fork.
6. When the fish is ready, spread the top with the cheese mixture and bake until golden brown (about 5 minutes).

*Baking time will depend on the thickness of the fish you use. Watch the fish closely so that it does not overcook.
*Note: This fish can also be made in a broiler.
1. Broil 3 to 4 minutes or until almost done.
2. Add cheese and broil another 2 to 3 minutes or until browned.

Number of Servings: 1

Recipe submitted by SparkPeople user EAGLES17.


Rate This Recipe
Member Ratings For This Recipe
Okay, I used marlin (we were vacationing in Hawaii) instead of tilapia, and Italian seasoning instead of basil (it's all I had on hand). It was a hit with everyone, including the really picky eaters. We grilled the fish rather than bake it. It was oh, so good! We will make this dish often.

- 5/9/11

I was looking for an alternative to how I normally bake Talipia, and I was happy to find this one. So, I made it last night. The response hubby gave was, "this is different" .. while he had 2 fillets to my 1 (cat had the rest). Everyones tastes are different and this was definitely just "ok" to us.

- 1/23/10

Considering that I am always looking for new ways to make Tilapia (it's the least expensive fish my roomie and I can get!), this looks like PARADISE. Cheese + anything = Win. I can't wait to make this!!

Now that I've made it, I can't wait to make it again! This is incredible!

- 1/5/09

I am not a big fan of fish but Tilapia is one I did somewhat like. With this recipe I eat this at least once a week. My husband loves this recipe and requests it over and over again. I sometimes add a little sundried tomato to the last five minutes along with the topping!!

- 12/4/07