Nutritional Info
Servings Per Recipe: 8
Amount Per Serving
Calories:

329.6
Total Fat:

13.4 g

Cholesterol:

27.0 mg

Sodium:

679.6 mg

Total Carbs:

40.7 g

Dietary Fiber:

3.1 g

Protein:

5.9 g
Report Inappropriate Recipe
Pizza - Bacon, Tomato, & Spinach w/Alfredo Sauce
Submitted by: SPARKYCARLEY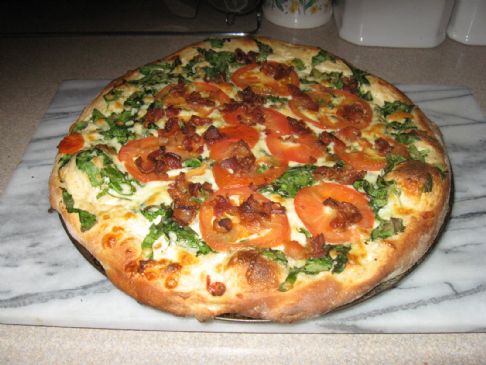 Ingredients
* Bacon - 4 slices




* Cheese - Mozzarella - Kraft - 1 cup




* Red Ripe Tomatoes - 1 med, sliced




* Spinach - Fresh - 12 oz, chopped




* Pizza - Dough - Ready Made - 1 pkg (650 g pkg)




* Sauce - Alfredo - Presidents Choice - 1/2 bottle (410 ml)
SparkPeople Sponsored Video
Directions
Preheat oven to 425 deg F. Coat 12" pizza pan with cooking spray. Press dough onto pan. Spread Alfredo sauce over dough, leaving 1/2" boarder; sprinkle with 1/2 cup cheese. Top with spinach, tomatoes and bacon/ sprinkle remaining 1/2 cup cheese. Bake until heated through and cheese is melted and lightly browned, 15 - 18 minutes.

Number of Servings: 8

Recipe submitted by SparkPeople user CARLEY053106.


Great Stories from around the Web
Rate This Recipe