Nutritional Info
Servings Per Recipe: 4
Amount Per Serving
Calories:

740.2
Total Fat:

61.5 g

Cholesterol:

80.5 mg

Sodium:

293.9 mg

Total Carbs:

12.9 g

Dietary Fiber:

1.3 g

Protein:

35.1 g
Report Inappropriate Recipe
Tuna in Tomato-Tarragon Broth
Submitted by: CHUCKLES0719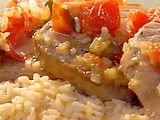 Introduction
http://www.foodnetwork.com/recipes/quick-f
ix-meals-with-robin-miller/tuna-in-tom
ato-tarragon-broth-recipe/index.html
http://www.foodnetwork.com/recipes/quick-f
ix-meals-with-robin-miller/tuna-in-tom
ato-tarragon-broth-recipe/index.html
Ingredients
6 (about 5 ounces each) tuna fillets, only 20 ounces added to this recipe for NUTRITIONAL INFO




Sea Salt and freshly ground black pepper




1 tablespoon olive oil




1 cup reduced-sodium vegetable or chicken broth...only used 1/2 cup




1 cup diced Organic Roma or Italian Tomatoes




1/4 cup minced shallots




2 tablespoons freshly chopped tarragon leaves




1 cup rice, regular or instant, cooked according to package directions...only used 1/2 cup cooked




2 tablespoons unsalted butter
Directions

Recipe courtesy Robin Miller, 2007
Show: Quick Fix Meals with Robin Miller
Episode: Super Sauces and Tasty Toppings

1. Season both sides of tuna with salt and black pepper.
2. In a large skillet, heat oil over medium-high heat.
3. Add tuna to hot pan and cook 2 minutes per side, until golden brown.
4. In a medium bowl, combine broth, tomatoes, shallots, and tarragon.
5. Add mixture to skillet and bring to a simmer. Simmer 2 minutes, until tuna is cooked to medium (or longer for more well done fish).
6. Finish the sauce with butter.
7. Serve 4 tuna fillets with all of the sauce and rice. Reserve the remaining tuna for melts.

Number of Servings: 4

Recipe submitted by SparkPeople user CHUCKLES0719.


Great Stories from around the Web
Rate This Recipe