Nutritional Info
Servings Per Recipe: 1
Amount Per Serving

Calories: 185.8
Total Fat:

4.5 g

Cholesterol:

3.9 mg

Sodium:

871.5 mg

Total Carbs:

28.9 g

Dietary Fiber:

18.0 g

Protein:

19.3 g
Report Inappropriate Recipe
HG Little Taco Salad in a Shell
Submitted by: KEYLIME84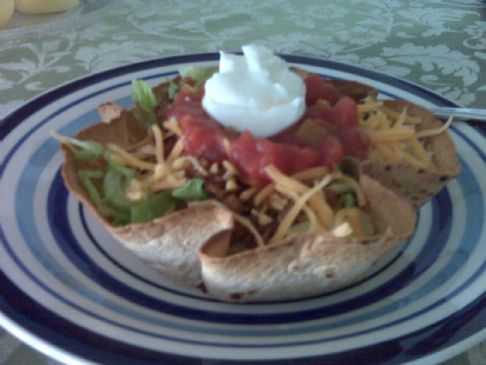 Ingredients
1 large La Tortilla Factory Low Carb/High Fiber Tortilla




1 1/2 cups shredded lettuce




1/3 cup frozen ground-beef-style soy crumbles




2 tablespoons shredded fat-free cheddar cheese




1/2 teaspoon dry taco seasoning mix




2 tablespoons salsa




1 tablespoon fat-free sour cream
Directions
Preheat oven to 425 degrees.

Spray a small round casserole dish (about 6 inches in diameter) with nonstick spray. Gently push tortilla into the dish, so that the sides of the tortilla fold in and rest along the sides of the dish. The tortilla should take on a bowl or "shell" shape.

Bake tortilla bowl in the oven for 10 to 12 minutes, until crispy. Set aside until cool.

Place soy crumbles in small microwave-safe dish and cover with taco seasoning mix. Microwave for 30 seconds, then stir well. Microwave for an additional 10 to 20 seconds, until hot.

Fill the tortilla "shell" with lettuce and top with seasoned soy crumbles. Sprinkle cheese on top. Finish with salsa and sour cream.

MAKES 1 SERVING

PER SERVING (entire recipe): 178 calories, 4.25g fat, 919mg sodium, 28g carbs, 15.5g fiber, 4g sugars, 21g protein

I like to prepare everything while the shell cooks, fill the shell then put it back in the oven for like a minute for the cheese to melt a little and everything gets a little warm.

Number of Servings: 1

Recipe submitted by SparkPeople user KEYLIME84.


Great Stories from around the Web
Rate This Recipe