Nutritional Info
Servings Per Recipe: 2
Amount Per Serving
Calories:

169.8
Total Fat:

3.2 g

Cholesterol:

2.5 mg

Sodium:

1,140.4 mg

Total Carbs:

26.4 g

Dietary Fiber:

2.6 g

Protein:

11.3 g
Report Inappropriate Recipe
HG Lean Bean 'N Cheese Enchiladas
Submitted by: KEYLIME84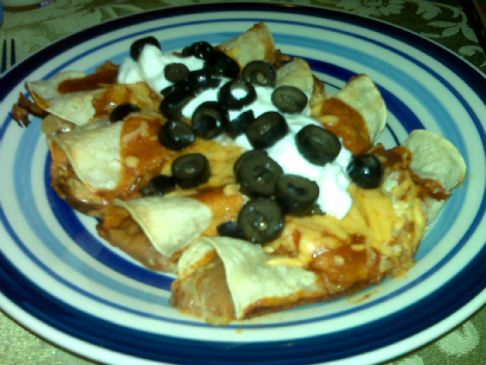 Ingredients
2 medium-large corn tortillas




2/3 cup enchilada sauce




1/3 cup fat-free refried beans




1 slice fat-free cheddar cheese, halved




1/4 cup shredded fat-free cheddar cheese




1/4 cup chopped onion




1 tablespoon taco sauce




1/2 teaspoon dry taco seasoning mix




Optional toppings: fat-free sour cream, chopped scallions
Directions
Preheat oven to 400 degrees.

In the pan sprayed with nonstick spray, cook onion over medium heat on the stove until it begins to brown, about 2 minutes.

In a small dish, combine onion with refried beans, taco sauce, and taco seasoning until mixed well.

Spray a small baking dish with nonstick spray and set aside.

Heat tortillas in the microwave until slightly warm. Lay tortillas flat and spread about 2 tablespoons enchilada sauce onto each one.

Place one half of the cheese slice in the center of each tortilla. Evenly distribute bean mixture in the center of each tortilla.

Wrap tortillas up tightly and place them in the baking dish, seam sides down. Pour the rest of the enchilada sauce over the enchiladas. Bake in the oven for about 10 minutes, until enchiladas are hot.

Remove dish from the oven and sprinkle cheese over enchiladas. Return to the oven and bake for about 5 minutes, until cheese has melted.

Plate those babies and, if you like, top with sour cream and/or scallions.

MAKES 2 SERVINGS

PER SERVING (1 enchilada): 187 calories, 2g fat, 976mg sodium, 29g carbs, 4g fiber, 5g sugars, 12g protein

Number of Servings: 2

Recipe submitted by SparkPeople user KEYLIME84.


Great Stories from around the Web
Rate This Recipe