Nutritional Info
Servings Per Recipe: 8
Amount Per Serving

Calories: 56.4
Total Fat:

1.4 g

Cholesterol:

2.8 mg

Sodium:

194.0 mg

Total Carbs:

8.3 g

Dietary Fiber:

3.1 g

Protein:

4.3 g
Report Inappropriate Recipe
Cauliflower cottage cheese casserole
Submitted by: MURKOV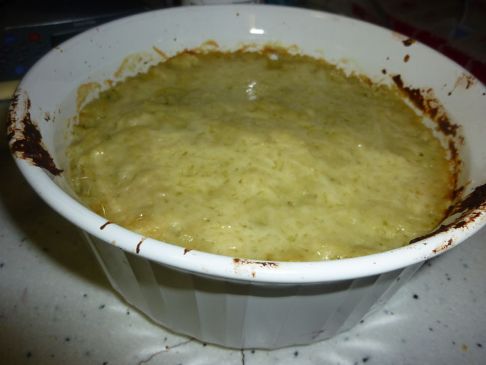 Introduction
Low fat, low sodium, low carb, low calorie and delicious.Everyone who eats it asks for the recipe
Low fat, low sodium, low carb, low calorie and delicious.Everyone who eats it asks for the recipe
Ingredients
! large head of cauliflower cut into floret pieces




1 large onion chopped




1 clove garlic




2 large scallions, chopped




4 oz fat free cottage cheese




3 tablespoons of capers(drained) or 4 to taste




2 packets of sodium free chicken bullion, HERB-OX




1 oz asiago cheese grated




pepper to taste
Directions
steam the cauliflower in the microwave
Saute the chopped onion, scallions and garlic in olive oil sprayed pan until just soft.
puree all the ingredients except the asigo cheese in a food
processor. Place in baking dish, sprinkle the asiago cheese on top and bake in 350 degree oven for 45-60 minutes or until bubbly. Maskes 8 servings 57 calores each..

Number of Servings: 8

Recipe submitted by SparkPeople user MURKOV.


Rate This Recipe
Member Ratings For This Recipe