Nutritional Info
Servings Per Recipe: 5
Amount Per Serving
Calories:

210.2
Total Fat:

6.7 g

Cholesterol:

52.1 mg

Sodium:

421.6 mg

Total Carbs:

11.2 g

Dietary Fiber:

1.3 g

Protein:

26.5 g
Report Inappropriate Recipe
Beef & Mushroom Stroganoff
Submitted by: BUDGETMOM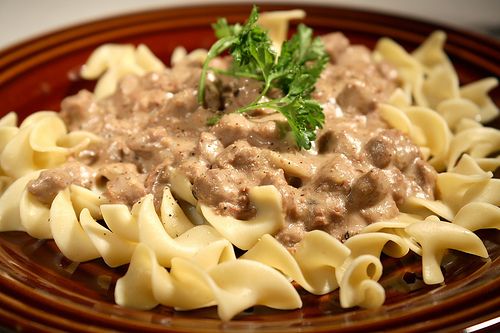 Introduction
Delicious and easy. Serve over rice or noodles along with steamed carrots and green beans and apple crisp for desert.
Delicious and easy. Serve over rice or noodles along with steamed carrots and green beans and apple crisp for desert.
Ingredients
1 pound LEAN ground beef




1 cup chopped onion




1 Tbsp minced garlic




8 ounces fresh mushrooms, sliced




2 cups beef broth (used 2 bouillon cubes)




1/8 tsp cracked black pepper




1/4 cup all-purpose white flour




1/2 cup cold water




1 cup nonfat plain greek yogurt (or sour cream)




salt, pepper and parsley (to taste)
Directions
Fry up your meat in a large skillet. Drain off any fat and rinse in hot water. Add the onion, garlic and mushrooms to the pan. Saute all together until the onions and mushrooms are tender. Return beef to skillet. Add half the beef broth and pepper. Bring to a boil over medium heat. Meanwhile, combine the white flour and the 1/2 cup cold water in a small jar with a good lid. Screw the lid on and shake the mixture until the flour is dissolved into the water. Pour this slurry into the boiling mixture on the stove, if you think you need more broth add it now. You can also stir in the noodles at this point to create a one pot meal. Simmer for a few minutes to thicken. Remove the skillet from the heat and allow it to sit until all boiling stops. Stir in the yogurt. Taste and add salt, pepper and parsely to season.

*Serve over whole wheat egg noodles (not calculated for calorie purposes)

Divided into 5 servings


Great Stories from around the Web
Rate This Recipe
Member Ratings For This Recipe
This was delicous! I added basil. I also mixed the noodles into the sauce mix! YUMMMMY! This has been added to our list of meals to eat over and over again! Thx for sharing! :o)

- 2/17/10

Reply from

BUDGETMOM

(3/9/10)

I also add the noodles in with the beef/sauce mixture. It makes it easy to serve and I always find that it's just the right amount of noodles to sauce! I'm so glad you liked it. I have also added a few dashes of Worcestershire to add some zip at the end.

Yummy! Although I added a Tb each of Gravy Master & Worcestershire Sauce for more flavor, and 4 no-salt bouillon packets for the regular, then added 1/2 tsp of salt to the pan. I also used real sour cream so my counts were a little higher even though we got at least 7+ servings instead of 6.

- 9/11/09

made it with the yogurt and it was ok, but i might try the sour cream next time

- 7/15/09

Reply from

BUDGETMOM

(4/24/12)

You can most definitely sub sour cream for the yogurt. I use yogurt, because it's healthier. Use whatever you have on hand.