Nutritional Info
Servings Per Recipe: 4
Amount Per Serving

Calories: 192.0
Total Fat:

1.5 g

Cholesterol:

67.9 mg

Sodium:

565.3 mg

Total Carbs:

11.2 g

Dietary Fiber:

0.2 g

Protein:

31.0 g
Report Inappropriate Recipe
Creamy Yogurt Crockpot Chicken
Submitted by: BUDGETMOM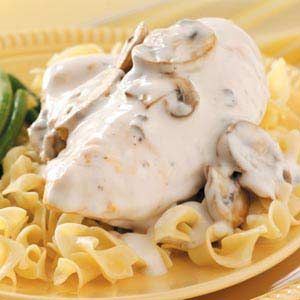 Introduction
Uses frozen chicken!
Uses frozen chicken!
Ingredients
16 oz boneless skinless chicken breasts, frozen




1 cup kroger fat free plain yogurt




10.5 oz. can (my recipe) cream of mushroom soup




1/2 packet Liption onion soup mix (or lots of garlic, dried onion, salt, paprika,,,,,whatever)




1/2- 1 pound sliced fresh mushrooms (optional-not calculated)
Tips
Directions
Place frozen chicken breasts in Crockpot. Mix reamaining ingredients together and pour over chicken. Cook on low for 8 hours.


Great Stories from around the Web
Rate This Recipe