Nutritional Info
Servings Per Recipe: 1
Amount Per Serving

Calories: 120.0
Total Fat:

1.4 g

Cholesterol:

0.3 mg

Sodium:

104.5 mg

Total Carbs:

24.0 g

Dietary Fiber:

2.5 g

Protein:

5.5 g
Report Inappropriate Recipe
Single Serve No-Bake Cowpie Cookie
Submitted by: SLIMKATIE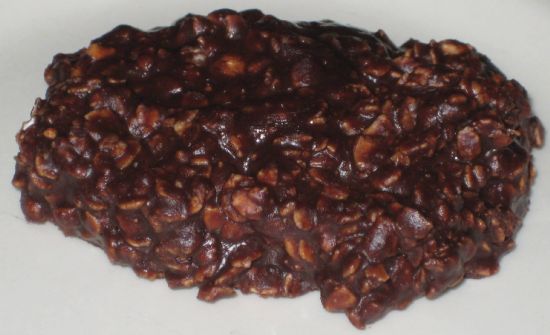 Introduction
My dad used to make these "cowpie" cookies--a fudgy drop cookie made with chocolate, peanut butter, oats, and butter. I decided to make a single serve cookie that tastes just as good, with a lot less calories and fat. And by making it single-serve, there is no chance I'll eat the entire batch! :)
My dad used to make these "cowpie" cookies--a fudgy drop cookie made with chocolate, peanut butter, oats, and butter. I decided to make a single serve cookie that tastes just as good, with a lot less calories and fat. And by making it single-serve, there is no chance I'll eat the entire batch! :)
Ingredients
1 Tbsp No Pudge! Brownie Mix (just the dry mix)




1 Tbsp PB2 (powdered peanut butter)




1 Tbsp. skim milk




2 Tbsp. quick cooking oats
Directions
Combine the brownie mix, PB2, and milk in a small bowl. Add the oats and stir to coat well. Drop the mixture onto a small piece of wax paper and refrigerate at least 2 hours.

Makes 1 cookie (2 Weight Watchers Points Values)

Number of Servings: 1

Recipe submitted by SparkPeople user SLIMKATIE.


Great Stories from around the Web
Rate This Recipe
Member Ratings For This Recipe
i would like to try this....where do i find PB2?

- 8/19/10

Reply from

SLIMKATIE

(8/22/10)

You can find it at www.bellplantation.com. It's FANTASTIC!