Nutritional Info
Servings Per Recipe: 21
Amount Per Serving
Calories:

158.5
Total Fat:

3.7 g

Cholesterol:

21.4 mg

Sodium:

156.3 mg

Total Carbs:

28.0 g

Dietary Fiber:

0.8 g

Protein:

3.6 g
Report Inappropriate Recipe
Muffins, Blueberry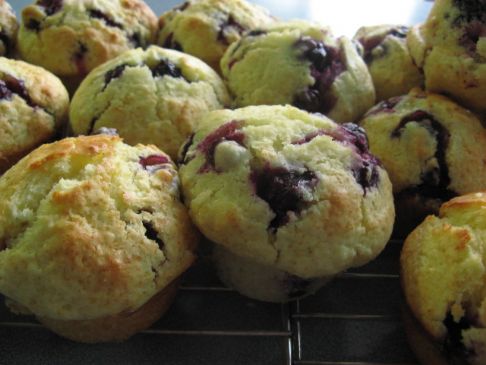 Introduction
Rich Muffins. Add 1 cup fruit of your choice. 158 Cal, 3.7 grams fat per muffin (21 muffins per batch)
Rich Muffins. Add 1 cup fruit of your choice. 158 Cal, 3.7 grams fat per muffin (21 muffins per batch)
Ingredients
3 Cups Sifted All Purpose Flour




6 tsp Baking Powder




1 Cup Sugar




2 Eggs




2 Cups Milk




1/2 Cup Olive Oil




1 Cup Blueberries
Directions
Mix all ingredients together. Stir just enough to blend, but not enough to produce a smooth batter. Place in muffin tins, 21 for large muffins or 24 for smaller muffins. Bake at 400 degrees for about 20 minutes until muffins pull away from sides and are a golden brown.

Number of Servings: 21

Recipe submitted by SparkPeople user DOUGLYE.


Great Stories from around the Web
Rate This Recipe