Nutritional Info
Servings Per Recipe: 8
Amount Per Serving
Calories:

193.8
Total Fat:

7.8 g

Cholesterol:

8.0 mg

Sodium:

203.7 mg

Total Carbs:

27.0 g

Dietary Fiber:

4.1 g

Protein:

4.1 g
Report Inappropriate Recipe
Pumpkin Chocolate Chip Scones
-->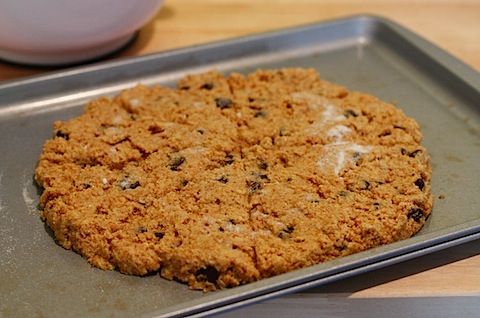 Ingredients
• 1.5 cups whole wheat flour




• 1/8 cup brown sugar splenda + 1 tsp of same




• 1 teaspoon baking powder




• 1/4 teaspoon baking soda




• 1/4 teaspoon salt




• 1/2 teaspoon cinnamon




• 2 tablespoons softened butter




• 1/3 cup canned pumpkin




• 1/3 cup plain yogurt (I use Greek yogurt)




• 1/2 cup chocolate chips



Directions
1) Preheat oven to 425.
2) Sift together the flour, 1/8 cup of sugar, baking powder, baking soda, cinnamon, and salt.
3) Add in pumpkin, yogurt, and butter, mixing as you go.
4) Form dough into a ball, place on a greased baking sheet and pat down into a circle about 1/2 to 1/4 inches thick.
5) Sprinkle with remaining 1 tsp of sugar and cut into 8 segments.
6) Bake at 425*F for about 20 minutes or until edges are slightly crisp and the top is lightly browned.

***You can decrease the calorie count by 70 calories a serving (5 FA, 9 CA, 0 NA, 2 FI, 6 SU, 1 PRO) if you elminate the chocolate chips---but why would anyone want to do that--lol!

Number of Servings: 8

Recipe submitted by SparkPeople user PRINCESSNURSE.


Great Stories from around the Web
Rate This Recipe