Nutritional Info
Servings Per Recipe: 5
Amount Per Serving
Calories:

128.2
Total Fat:

2.8 g

Cholesterol:

38.8 mg

Sodium:

1,085.3 mg

Total Carbs:

8.5 g

Dietary Fiber:

1.3 g

Protein:

17.0 g
Report Inappropriate Recipe
Beef Pepper Steak
Submitted by: MOMMYBEARTO3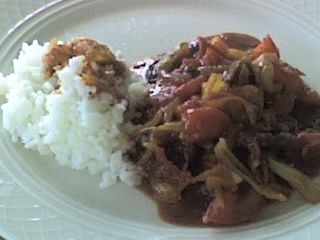 Ingredients
12 oz beef round steak, cubed




garlic powder to taste (1 teaspoon or more)




1 large (28 oz) can of diced tomatoes (do not drain)




1 cup diced onion




1 cup green pepper strips (or more as you desire)




3 tablespoons soy sauce (low sodium if available)




1 teaspoon salt




1 teaspoon sugar




1/4 cup water




2 teaspoons corn starch




Directions
BROWN 12 OZ ROUND STEAK CUT INTO BITE SIZE CUBES IN SKILLET SPRAYED WITH PAM. SPRINKLE ON GARLIC POWDER TO TASTE. TAKE OUT MEAT. SAUTE ONION AND GREEN PEPPER (SPRAY PAN AGAIN IF NEEDED). COOK UNTIL ALMOST TENDER. PUT MEAT BACK IN AGAIN, AND ADD CAN OF WHOLE TOMATOES AND 2 BEEF BOUILLON CUBES. SIMMER ON MED-LOW FOR 10 MINUTES. MAKE A MIXTURE OF 1 TEASPOON SALT, 1 TEASPOON SUGAR, 3 TABLESPOONS SOY SAUCE, 1/4 CUP WATER, 2 TEASPOONS CORNSTARCH. ADD MIXTURE AND SIMMER 15 MINUTES LONGER. SERVE OVER RICE OR NOODLES (ADDING APPROPRIATE CALORIES). MAKES 5 ONE CUP SERVINGS.

Number of Servings: 5

Recipe submitted by SparkPeople user MOMMYBEARTO3.


Great Stories from around the Web
Rate This Recipe
Member Ratings For This Recipe
anyone know what the serving size for this actually is??? I've noticed that most of these recipes never say how much equals a serving size.

- 8/29/10

Reply from

MOMMYBEARTO3

(9/22/10)

The recipe includes that information....10 half cup servings.