Nutritional Info
Servings Per Recipe: 5
Amount Per Serving

Calories: 146.9
Total Fat:

0.1 g

Cholesterol:

0.0 mg

Sodium:

632.4 mg

Total Carbs:

8.9 g

Dietary Fiber:

4.8 g

Protein:

5.6 g
Report Inappropriate Recipe
Black Bean Soup
Submitted by: LUV-BEING-NANA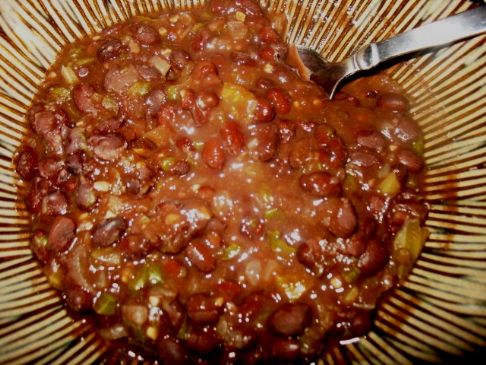 Ingredients
1 onion, finely chopped




2 cloves garlic, minced




2 celery ribs, finely chopped




small green pepper, chopped




2 chicken boullion cubes dissolved in




1.5C boiling water




2 cans black beans, undrained




1/2 tsp salt




1/2 tsp cumin




1 1/2 Tbsp Corn starch




1 1/2 Tbsp water
Tips
Directions
Mix first 6 items in large pot. Simmer 10 minutes
Add the beans, salt, & cumin. Simmer 5 more minutes
Combine the corn starch and water then add to soup
Cook until thick and serve

The nutritional info is based upon 3/4C servings

If you love Panera's Black Bean Soup...you will love this!


Great Stories from around the Web
Rate This Recipe