Nutritional Info
Servings Per Recipe: 1
Amount Per Serving
Calories:

180.6
Total Fat:

2.4 g

Cholesterol:

2.6 mg

Sodium:

441.3 mg

Total Carbs:

27.3 g

Dietary Fiber:

6.8 g

Protein:

17.4 g
Report Inappropriate Recipe
HG Super Veggie-Stuffed Peppers
Submitted by: KEYLIME84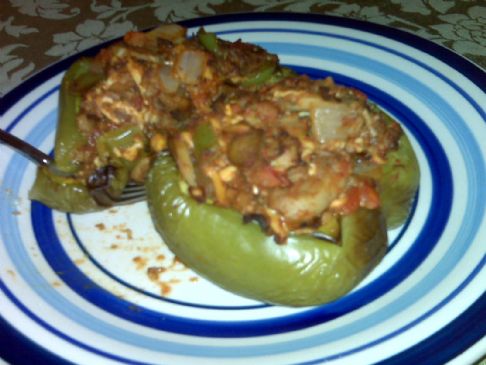 Ingredients
1 large red bell pepper




1 plum tomato (preferably Roma), deseeded and chopped




1/2 cup frozen ground-beef-style soy crumbles, thawed




1/2 cup chopped mushrooms




1/4 cup chopped onions




1/4 cup chopped green bell pepper




1/4 cup canned tomato sauce




2 tablespoons shredded fat-free cheddar cheese




1/2 teaspoon dry taco seasoning mix




1/4 teaspoon minced garlic
Directions
Preheat oven to 375 degrees.

Bring a medium pan to medium-high heat on the stove. Add mushrooms, onion, and green bell pepper. Cook for 3 to 5 minutes, stirring occasionally, until veggies are slightly softened. Add garlic to the pan and cook for 1 additional minute. Transfer mixture to a medium bowl.

To the bowl, add tomato, soy crumbles, tomato sauce, cheese, and taco seasoning. Mix thoroughly and set aside.

Slice of the the top of the red pepper, and then slice it in half lengthwise. Remove seeds.

Spray a medium baking dish lightly with nonstick spray. Place pepper halves in the dish, cut side up, and back in oven for 25 minutes.

Remove pepper halves from the oven and reduce temperature to 350 degrees.

Once pepper halves are cool enough to handle, use paper towels to soak up any excess moisture. Evenly spoon veggie mixture into pepper halves. Return to the oven and bake for 20 minutes. Let cool slightly and then dig in!

MAKES 1 SERVING

Per serving (2 stuffed-pepper halves): 188 calories, 2g fat, 801mg sodium, 28.5g carbs, 8.5g fiber, 13.5g sugars, 19g protein

Number of Servings: 1

Recipe submitted by SparkPeople user KEYLIME84.


Great Stories from around the Web
Rate This Recipe