Nutritional Info
Servings Per Recipe: 8
Amount Per Serving
Calories:

131.9
Total Fat:

1.1 g

Cholesterol:

8.7 mg

Sodium:

943.3 mg

Total Carbs:

21.6 g

Dietary Fiber:

4.8 g

Protein:

9.9 g
Report Inappropriate Recipe
HG No-Buns-About-It Chili Dog Chili
Submitted by: KEYLIME84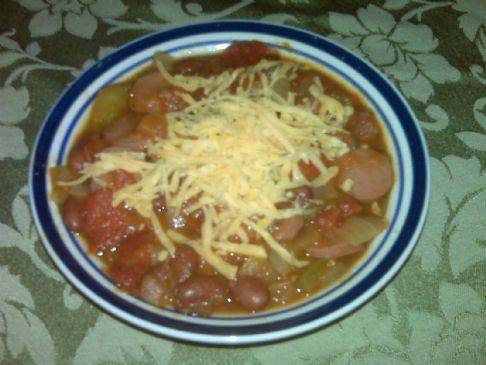 Ingredients
Two 14.5-oz. cans stewed tomatoes (Mexican-style, if available), not drained




2 green bell peppers, chopped




1 large onion, chopped




1 large tomato, chopped




7 hot dogs with about 40 calories and 1g fat each (like Hebrew National 97% Fat Free Beef Franks), chopped




One 15-oz. can red kidney beans, drained and rinsed




1 1/2 tbsp. yellow mustard




1/2 tsp. chili powder




1/2 tsp. ground cumin




1/8 tsp. garlic powder




Optional: salt, black pepper, cayenne pepper




Optional topping: shredded fat-free cheddar cheese
Directions
Roughly chop the stewed tomatoes, reserving all juice. Set aside.

Bring a large pot sprayed with nonstick spray to medium-high heat on the stove. Add chopped bell peppers and onion. Stirring occasionally, cook until softened, about 5 minutes. Add chopped (fresh) tomato, give mixture a stir, and continue to cook for 1 minute.

Add stewed tomatoes and the reserved juice to the pot. Add all remaining ingredients and mix well. Raise heat to high and bring to a boil.

Once boiling, reduce heat to medium low. Cover and allow to simmer for 20 minutes, removing the lid occasionally to stir.

Remove pot from heat and remove the lid. Allow chili to thicken for about 20 minutes.

If you like, season to taste with salt, black pepper, and/or cayenne pepper. Top each serving with cheese (optional), and enjoy!

MAKES 8 SERVINGS

PER SERVING (1 cup): 129 calories, 1.25g fat, 834mg sodium, 22g carbs, 5g fiber, 8g sugars, 9.5g protein -- POINTS® value 2*

Number of Servings: 8

Recipe submitted by SparkPeople user KEYLIME84.


Great Stories from around the Web
Rate This Recipe