Nutritional Info
Servings Per Recipe: 16
Amount Per Serving
Calories:

567.3
Total Fat:

38.5 g

Cholesterol:

118.0 mg

Sodium:

732.8 mg

Total Carbs:

27.9 g

Dietary Fiber:

4.4 g

Protein:

28.8 g
Report Inappropriate Recipe
Cheese Spaghetti
Submitted by: FARMWIFEFORLIFE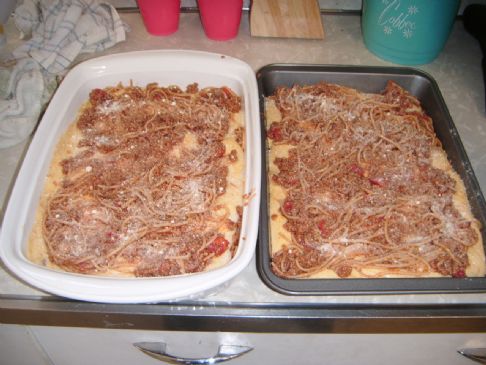 Introduction
Probably more of a comfort food than a healthy one, but delicious nonetheless!
Probably more of a comfort food than a healthy one, but delicious nonetheless!
Ingredients
1 Package Whole Wheat Spaghetti (13.25 oz)




2 Cans Tomato Sauce (15 oz each)




2 Cans Diced Tomatoes (15 oz each)




3 lbs Cooked Ground Beef




1 TBS Garlic Powder




1 TBS Italian Seasoning




1 Quart Milk (Can use mixed up powdered milk to cheapen recipe)




2 cups Flour




1 Stick Butter
Directions
Makes 2 13 x 9 casserole dishes. One for eating right away and one for the freezer.

Brown ground beef. While beef is cooking, boil water for noodles, and cook noodles in a very large separate pot. Drain noodles. Mix beef, noodles, tomatoes, tomato sauce, garlic powder, and seasoning to make spaghetti mix in the pot you cooked the noodles in. Set aside.

Melt butter in a pan large enough to accommodate the milk, flour, and cheese. Once butter is melted whisk in the flour while keeping the heat on. Mixture will be thick and pasty. Add milk. Continue whisking on medium-high heat for 5-10 minutes until mixture thickens, then add cheese and whisk until thoroughly mixed and thickened to the consistency of cheese sauce.

Divide half of the spaghetti mixture among two greased 13 x 9 casserole dishes or pans. Spread the cheese sauce on top of the spaghetti in both dishes. Top with remaining spaghetti and sprinkle with Parmesan cheese. Bake one uncovered dish in 350 degree oven until bubbly (approximately 45 minutes.)

Cover and freeze the other dish for another time. When baking the frozen dish, be sure to cover it and allow extra baking time. It helps to thaw the dish in the fridge a couple days ahead of cooking, but can be baked from the frozen state.

Enjoy!

One dish serves approximately 6-8 people.

Number of Servings: 16

Recipe submitted by SparkPeople user FARMWIFEFORLIFE.


Great Stories from around the Web
Rate This Recipe