Nutritional Info
Servings Per Recipe: 6
Amount Per Serving
Calories:

388.9
Total Fat:

30.2 g

Cholesterol:

0.0 mg

Sodium:

627.4 mg

Total Carbs:

19.5 g

Dietary Fiber:

4.9 g

Protein:

16.2 g
Report Inappropriate Recipe
Vegan Cashew Broccoli Tofu Stir-Fry
Submitted by: BRANDVEGN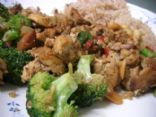 Introduction
Delicious and Easy Stir-Fry
Delicious and Easy Stir-Fry
Ingredients
2 Tablespoons Grapeseed Oil




1 Large Onion, Finely Chopped




3 Cloves Garlic, Crushed




1 Small Red Chili Pepper, Finely Chopped




1 Thumb-Sized Piece of Ginger Root




6 Button Mushrooms




1 Block Fried or Smoked Tofu




1 Head of Broccoli




1 Small Bag Cashew Nuts (or mixed nuts, see below)




4 Tablespoons Soy Sauce




2 Tablespoons Sesame Oil
Directions
This was an adaptation of a recipe from www.veganfamily.co.uk, but it is a basic stir-fry.
We don't have access to "smoked tofu" so I fried up the tofu using a steak marinade I had already prepared for some eggplant I had grilled. There are tons of these types of marinades online and I usually just pick a new one each time. After frying the tofu, I put it in the oven and broiled the tops for about 10 minutes on each side to add some crunch. I have a convection oven, so add some extra time for normal ovens. We also don't have a lot of nut options in this small town in Korea, so we used mixed nuts instead of only cashews.

While the tofu is in the oven, heat up the grapeseed oil. Add the onion, garlic, chili, and ginger to the oil and cook for about 2 minutes. Add the mushrooms for an additional minute, stirring occasionally. Add the tofu, broccoli, nuts, and soy sauce and cook for about 2 more minutes, not much more. You want the broccoli to just change color to a dark green before pulling the pan from the fire. Finally mix in the sesame oil and stir in. This is delicious with some Asian short grain rice. I fry the dry rice in oil (like a risotto) for a couple minutes before cooking. Makes about 6 1-cup servings.

Number of Servings: 6

Recipe submitted by SparkPeople user BRANDVEGN.


Great Stories from around the Web
Rate This Recipe
Member Ratings For This Recipe
Used this as an outline. Used Broccoli slaw and had no nuts or mushrooms. I stir fried the onions quite a bit to bring out the sweet in them. Sauce was basically the same. I did have smoked Tofu from Trader Joe. I served it over brown rice and it was pretty darn good!

- 7/9/11

Delicious and easy to make!

- 9/2/07

Reply from

BRANDVEGN

(2/23/10)

Then maybe I will make it again soon!