Nutritional Info
Servings Per Recipe: 28
Amount Per Serving
Calories:

135.8
Total Fat:

3.9 g

Cholesterol:

2.2 mg

Sodium:

34.4 mg

Total Carbs:

21.6 g

Dietary Fiber:

3.2 g

Protein:

4.6 g
Report Inappropriate Recipe
Cracked Wheat, HazelNut & Bran Bread
Submitted by: FIT_ARTIST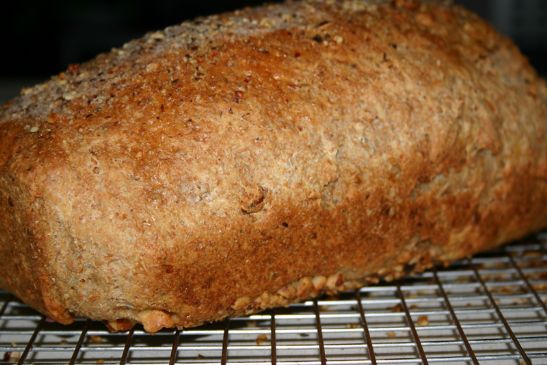 Ingredients
1/2 cup cracked wheat (bulgur)




1/2 cup hot water




2 tbsp butter




3 tbsp honey




1/2 tsp sea salt




5 cups whole grain flour




1 cup wheat bran




2 tbsp vital wheat gluten




1 cup finely chopped hazelnuts (divided into 3/4 & 1/4 cups)




2 - 2 1/2 cups lukewarm water





*a little extra flour for kneading




*a little bit of oil for on top of loaves



Directions
Boil 1/2 cup water. Pour in bulgur and simmer for 10 minutes. Add butter, honey and salt. Allow to cool.
In a food processor or mixer, or a large bowl if mixing by hand, place the remaining dry ingredients except for the hazelnuts. NOTE: The 3/4 cup of hazelnuts can be added now and mixed in, or you can add later when you are kneading and knead them into the dough.
Add the warm water. Mix together and knead on a floured surface. About 8-10 minutes until surface is smooth and elastic.
Place in an oiled bowl and cover with saran wrap. Put in a warm place and allow to rise until doubles in bulk. About 45 minutes.
Grease 2 loaf pans. Punch down dough and divide into two. Lightly oil tops of loaves and sprinkle remaining hazelnuts on top. Place in pans, and allow to rise again.
Bake in a 375 degree oven for 35 - 45 minutes or until loaves sound hollow when tapped.
Remove from oven and remove from pans. Brush oil or butter on tops.
Allow to cool on wire rack.

Makes 28 slices (2 loaves)

Number of Servings: 28

Recipe submitted by SparkPeople user FIT_HAWG.


Great Stories from around the Web
Rate This Recipe