Nutritional Info
Servings Per Recipe: 6
Amount Per Serving
Calories:

134.4
Total Fat:

7.7 g

Cholesterol:

87.2 mg

Sodium:

238.2 mg

Total Carbs:

12.7 g

Dietary Fiber:

0.8 g

Protein:

4.7 g
Report Inappropriate Recipe
Corn Pudding
Submitted by: MADE_OF_STARS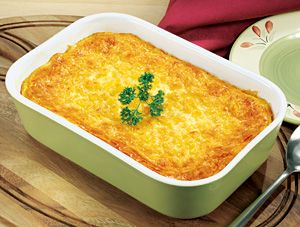 Introduction
From Five Gables Inn in Boothbay, ME.
From Five Gables Inn in Boothbay, ME.
Ingredients
* 1 c. fresh corn kernels




* 2 tbl. flour




* 1/2 tsp. salt




* 1/8 tsp. pepper




* 1 tbl. sugar




* 2 eggs




* 1 c. milk




* 3 tbl. butter, melted



SparkPeople Sponsored Video
Directions
Clean ears of corn. Strip kernels from ear with knife. Sift together flour, salt, pepper, and sugar. Mix well. Combine dry mixture with corn kernels and mix well. Beat eggs together in a heat proof (preferably Pyrex) bowl. In a small saucepan bring milk just short of a boil. Beat warmed milk very slowly into eggs. Add melted butter. Combine corn mixture and egg mixture. Pour into greased, shallow baking dish. Bake 350 for 30 minutes. Serves 6

Number of Servings: 6

Recipe submitted by SparkPeople user MADE_OF_STARS.


Great Stories from around the Web
Rate This Recipe