Nutritional Info
Servings Per Recipe: 1
Amount Per Serving
Calories:

2,942.9
Total Fat:

165.7 g

Cholesterol:

539.7 mg

Sodium:

2,123.2 mg

Total Carbs:

359.6 g

Dietary Fiber:

29.1 g

Protein:

38.7 g
Report Inappropriate Recipe
Chocolate Strawberry Shortcakes
Submitted by: VANBURENMOM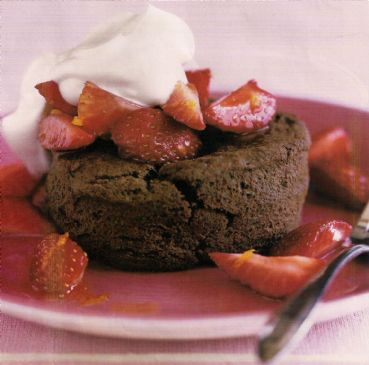 Introduction
(Adapted from a recipe found in Bon Appetite Magazine)
(Adapted from a recipe found in Bon Appetite Magazine)
Ingredients
Biscuits:




1 1/4 Cups All Purpose Flour




1/2 Cup Unsweetened Cocoa Powder




1/2 Cup Sugar




1 TBSP Baking Powder




1/8 TSP Salt




1 Cup Chilled Heavy Whipping Cream




1/2 TSP Vanilla Extract





Topping:




3 1/2 Cups of Strawberries, hulled and quartered




1/2 Cup Powdered Sugar




1/4 Cup Orange Juice




Pinch of salt




1/2 Cup Chilled Whipping Cream




1/2 Cup Chilled Sour Cream



Directions
Directions:
For Biscuits: Preheat oven to 400 and line a baking sheet with parchment paper. Whisk flour, cocoa powder, sugar, baking powder and salt together in a large bowl. In a separate bowl beat whipping cream and vanilla with an electric mixer until firm peaks form. Stir cream in to flour mixture until it makes moist lumps. Tip out onto a floured surface and knead gently till a dough ball forms (about 10 times) Pat dough out to about a 3/4 inch thickness and use a biscuit cutter to cut out circles, you will need 6, gather dough and pat out flat again as needed. Place biscuits on baking sheet. Bake 15 min or until a toothpick comes out clean. Cool.
For Strawberries: Mix strawberries, 6 TBSP of the powdered sugar and orange juice in a bowl. Cover and chill for 1-2 hrs. When they are ready, use an electric mixer to beat whipping cream, sour cream, and the remaining powdered sugar until soft peaks form.
To Serve: Place a biscuit on a plate, top with a large spoonful of the berry mix than top it all with whip cream mix! ENJOY! Serves 6


Number of Servings: 1

Recipe submitted by SparkPeople user VANBURENMOM.


Great Stories from around the Web
Rate This Recipe